Xapads at Dmecxo 2016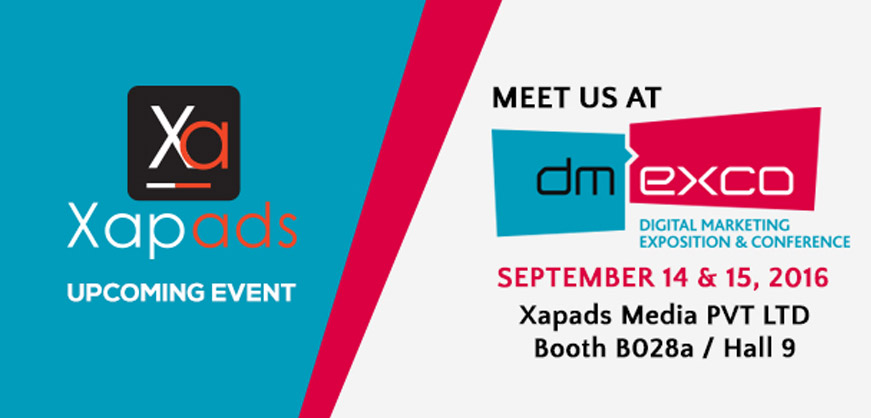 Once again Xapads will be exhibiting in the biggest event in the global digital marketing and media industry, Dmexco 2016. Motto of this event is "Digital is everything- not everything is digital". This event provides a national platform to people working in the digital industry. This event will be held at the Koelnmesse in Colonge, Germany. It will be a 2 day event starting on the 14th and ending on the 15th of September.
The focus of this year's event will be on the current aspects, concerns, and issues that might rise in the digital age. Xapads has always believed that in this rapidly growing economy, digital technologies are the best way to utilize your own strengths and increase your knowledge about resources more effectively. This will in turn help you to optimize your processes and will get your business operations to multiply.
There will be an intensive exchange of information amongst agencies, decision makers, and other exhibitors with high quality of communication.
It is the event where advertisers, marketers, digital professionals and agency representatives from all around the world will come together to indulge in a very informative and excellent communicative transactions with others working in the same field.
Xapads is an independent ad exchange networks company which is driven through single platform ROI. We use innovative solutions, creativity to get easy integration for our customers. Our main focus is to keep our customers intrigued and contented.
We help Ad agencies to expand their advertising horizons by providing them with transparency and give them the control of their own ads. We will be launching our new RTB (real time bidding) process at this year's Dmexco. By using RTB we offer a hassle free auctioning tool for publishers which help them to easily sell and manage your ad impression inventory from the ad server in real time. This also helps our customers to optimize ads coming in from various ad- networks. This further allows them to launch and create advertising campaigns, assign the percentage of unsold inventory which is called the backfill and also prioritize networks. We provide our customers with high yields, multiple ad formats, cross channel targeting, and fraud protection.