World Health Day- Ways we are ensuring Xapads stays Corona free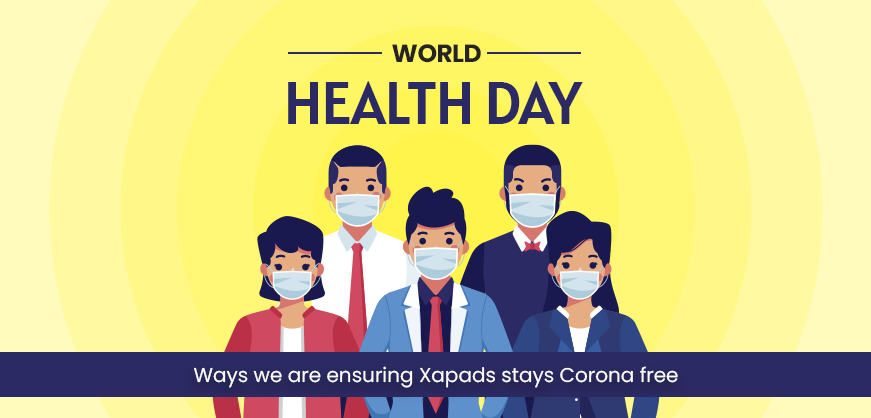 It is World Health Day today and it is hard not to think about the impact of COVID-19 on our 'normal' lives and how things have changed forever. We understood the importance of taking care of our health during this time and adopting better hygiene practices.
It is our personal responsibility and as a part of a community, we must look after each other. Hence, we at Xapads Media have undergone many changes to ensure that our employees feel safe and take all the necessary precautions as they return to the office. This due diligence has helped many employees return safely to work and take care of their health simultaneously.
The management at Xapads has come up with its own system to maintain safety and the rules are to be followed strictly by all employees. Here is what has helped us maintain a corona-free environment at Xapads.
Rotational-Team Calling
We at Xapads ensure proper Social Distancing is maintained therefore we are operating at maximum of 1/3rd of total capacity at any given point of time. We have been rotating Work from Office within various teams to ensure minimum gatherings and yet higher efficiency.
RT-PCR Testing
One important precautionary measure to prevent COVID-19 is regular testing. The employees at Xapads have been asked to get tested before coming to the office especially if they go out in large gatherings or on a trip. This has helped in curbing the spread of infection and keeping employees safe in the office premises.
Virtual Celebrations
Celebrating our wins, festivals and birthdays is essential to the core of Xapads and for this we have been relying on virtual celebrations and gifts to employees. Like on Women's Day and Holi hampers were sent to add to the celebratory spirit.
No Public Transport
We asked employees to commute through their vehicles or private cab. We consider it safer to avoid public transport under the given circumstances. The private cab fare is also reimbursed to make sure it is not a burden on their pocket.
COVID-19 Free Environment
We also ensured that our office is a safe environment for our employees. So, every day they go through a thermal screening and sanitization process before entering the office. The seating arrangement is also done keeping in mind the social distancing norms.
Mandatory use of mask
For safety's sake, we have made wearing masks inside the office a must. This not only decreases the risk of infection it adds to employee's mental satisfaction about their health too. Every table is equipped with a sanitizer too.
Our foremost responsibility is the employee's well-being at the workplace. We as Xapads are following these protocols to ensure safety. The pandemic has taught us all a few lessons and this World Health Day, we urge everyone to stay safe and follow all the safety measures while going back to work during the pandemic.