What to Expect from Dmexco 2016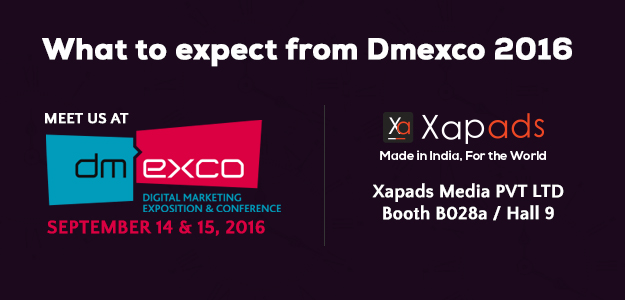 If ever evidence was needed of the outburst of big digital marketing organizations battling it out in staggering competitive market, it's the Dmexco. In short span of time, Dmexco has become one of the must attend event for digital advertising giants around the globe. Europe's biggest digital marketing trade fair will be hitting the shores in Cologne, Germany. It will mark the beginning of new Digital Era under the motto of "Digital is everything, everything is digital" and takes place on September 14 and 15, 2016.
Magnetizing over 500 international elite speakers, 950+ exhibitors, more than 50,000 visitors and 250 hours of content sessions across 15 stages, the conference contributes in an immense way to the growth for anyone related to publishing, advertising sectors. From Google, Nestle, Facebook, Amazon and New York Times to IBM, Twitter and AOL! The titans of technology will be in attendance.
Xapads Media is very excited to be back to Dmexco this year and we have series of special events lined up for you. We will be exhibiting at Booth B028a, Hall 9 and anyone interested in getting to know us better can stop by sometime in that window socializing with our team of experts.
What will be Buzzing?
Exhibitions like Dmexco are great platform for new product announcements and corporate affiliations; you can always anticipate number of launches at Europe's biggest digital event. This year, Xapads Media will launch its own creation RTB platform "Xapads Exchange"- New Programmatic innovation to change the landscape of online advertising altogether. This will make us one of the few to develop and use this technology in India.
Xapads Exchange, a programmatic ad platform that follows IAB's Open RTB v2.3, offers access to over 50+ DSPs and 10+ SSPs, more than 2500+ direct publishers, 10 billion+ daily requests, precise audience buys and integrated DMPs. Our advanced targeting algorithms ensure that right ad must reach to right audience at right time. To keep your brand safe and bot free, our platform is coated with Fraudlogix, Geo Edge and Media trust state of art technology.
Drop by our booth our team will be there to guide you through the importance of programmatic innovation, mobile monetization and some of the trending topics of the Industry.
Schedule a meeting with us and explore how our innovative solutions can help you yield productive output to your company.
Hope to see you there!