Rich Media Ads – An Adaptative Advertising Tool for Elated Experience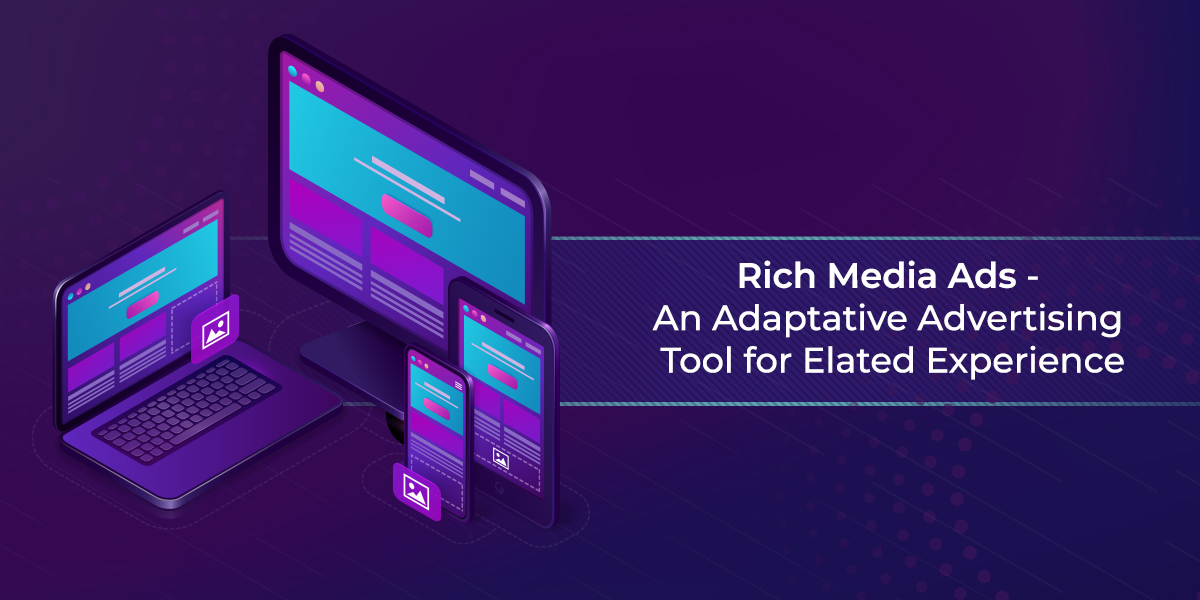 No campaign can perform better than a tremendous story-building strategy in place since it not only delivers the right message but touches the users emotionally and does wonders in brand promotion. This strategy helps in tapping into the target audience with more engagement as it develops a connection between brands and consumers in an innovative way wherein, Rich Media Ads facilitate marketers with quality user interaction and unique experience.
Let's discuss in detail, What are Rich Media Ads and how incorporating them into marketing practices can help advertisers make the best out of them.
Rich Media Ads leave a lasting impact on users and they better get engaged with the brands at the initial stages of the campaign. This is because it involves different types of interactive and dynamic elements such as animation, audio, visuals, text, images, etc that grab users' eyeballs towards a showcased creative. In the evolving Adtech vertical, Rich Media Ads are establishing benchmarks and are destined to be a way forward as it has become a crucial part of HTML5 websites; thus, also known as HTML5 ads. They easily get adaptive to the user's device and adjust or change the position of the campaign as per the screen size too which leads to an amazing user experience.
Why Are Rich Media Ads the Preferred Advertising Medium for Marketers?
These ads can easily be used on mobile apps and consist of different file types compatible with HTML5, Javascript, Java MRAID, CSS, SVG, Web Fonts, and other standard assets eliminating the need and use of plugins like Flash. With such compatible essentials, Rich Media Ads effectively include gaming elements too which often becomes a perfect fit for mobile in-app ads.
Advantages of Rich Media Ads Benefitting Marketers:
Retain users while providing them with dynamic creatives that increase conversions and CTRs.

Such ads are receptive and encourage users to interact with a campaign specifically in gaming apps since it appears during natural pauses and doesn't hamper their experience.

Videos hosting rich media elements can be showcased in an expanded version because the ads expand if clicked or touched, move with scrolling and rotate over hovering.

These ads provide opportunities for user interaction with personalized creatives as it understands the users' psychology and their expectations from the brand and gets connected with the offerings.

Rich Media elements in a form of Playable Ads boost app engagement rates as it provides users with an idea of how an advertised app looks before actually installing it.

These ads are a sophisticated medium for brand promotion as they have proven to be a replica of TVCs which efficiently draw users' attention towards them in the digital ecosystem.

Rich Media adverts are best suitable for product launches as users can get to know about the product's USPs via rich media ads banner.

It offers quality impressions which result in Scratch to Reveal boundless possibilities in various forms of rewards. Rich Media provides a clear value exchange in viewing an ad with some rewards which is an effective app monetization strategy too.
All such features of the rich media adverts help marketers effectively create a buzz about the brands' offerings in the market and drive brand recall value with better advertising experiences and ROAS. All thanks to the IAB Tech Lab that empowers the advertising industry, supports industry participants and backs them with solutions to better survive in the digital environment with more growth and scalability. It develops industry standards of ad formats and practices to be followed by industry players that will also benefit the consumers. Some of the protocols are Mobile Rich Media Ad Interface Definitions (MRAID) and Secure HTML Ad Rich-media Container (SHARC).
MRAID is a common API and a standardized command to work with HTML5 and JavaScript and runs in mobile apps. It helps developers to communicate with the apps into which the rich media ads are required to be showcased. On the other hand, SHARC is the latest protocol which is presently accepting feedback from the advertising industry since it's a secure container API which is meant for communication.
Rich Media is a Way Forward!
An advertiser always desires to engage and retain the potential audience with quality returns wherein, Rich Media Ads strives to render the expected outcomes and will also flourish more in the digital ad universe. These ads would revolutionize the app ecosystem since its features and qualities collectively make a campaign healthy with effective performance. We at Xapads, marvel in programmatic rich media ad formats and provide our clients with a fantastic experience for increased brand awareness & improved ROAS. Contact our team today to learn more.
Written By: Rohit Arora, Vice President – Tech and Strategic Initiatives