How Rich Media is Helping Brands to Set Their Pace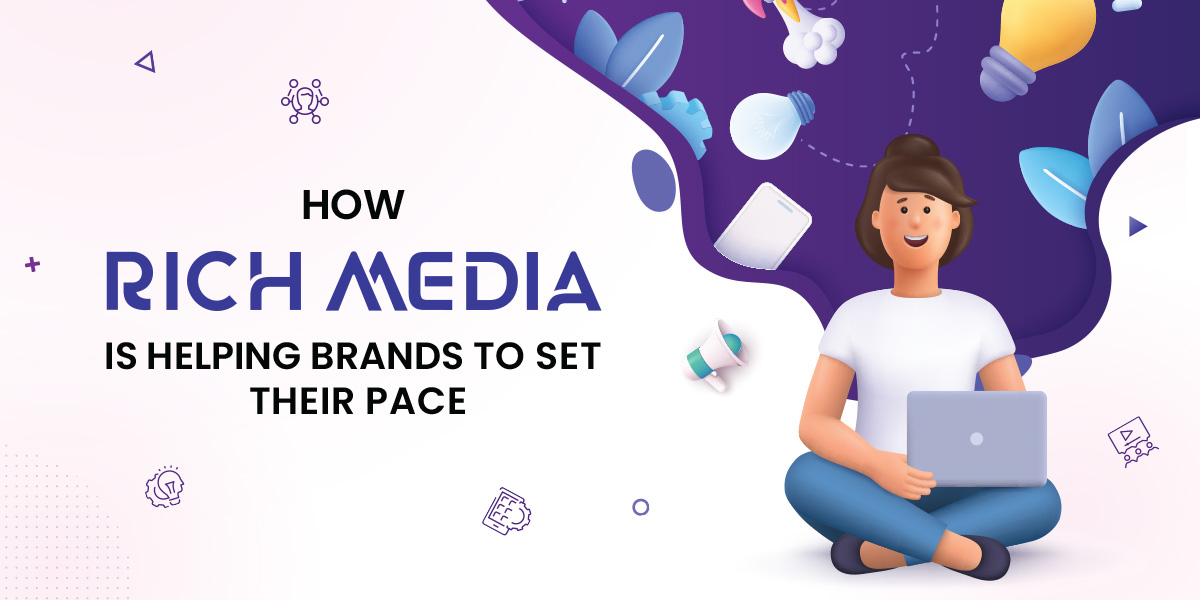 In the age of GenZ and Millenials where advertising has become a common ground for brand promotion and marketing, brand owners strive their best to stay ahead of the market competition. They try to do something unique that can grab users' eyeballs towards the brand's offerings and can also create a powerful brand presence. Hence, to help them stand out in the digital industry, Rich Media is Helping Brands to Set Their Pace. With the developments and innovations in technology, advertising practices via rich media have become easier since it enables advertisers to showcase interactive content that encourages consumers to spend time interacting with the campaign.
The old saying of William Bernbach "Good advertising does not just circulate information; it penetrates the public mind with desires and belief" stands true in terms of rich media ads. This is because it is evolving and creating a buzz, giving marketing practices an extra edge due to developments in digital advertising. Such ads include advanced features like video, audio, animations, or other elements that complement the campaign and encourage netizens to interact and engage with the content. Owing to such characteristics, brands incorporate rich media into their marketing campaigns as it makes a difference in achieving business objectives and goals with effective brand recall. Hence, Rich Media Ads are taking the front seat in digital marketing since it also leaves a lasting impact on users and they better connect with the brands at the initial stages of the campaign.
We understand the significance of rich media ads for marketing campaigns as it delivers a promising user experience by adjusting to users' screen size and device, increase conversions and come along with many other benefits that give brands a unique identity. This amplifies the campaign performance differentiating itself from the standard display creative.
Standards Display Creative v/s Rich Media Creative
| | |
| --- | --- |
| Standard Display Creative | Rich Media Creative |
| Limited to words & pictures. | Involves animations, motion graphics and other eye-catching elements. |
| Have a single .html, .png or .gif format of up to or less than 200K. | Compatible with HTML5, Javascript, Java MRAID, CSS, SVG etc and eliminates the use of plugins like Flash. |
| Static in nature with lesser or no interactive elements. | Engaging and interactive in nature with special features like polling, gallery, games, making combos etc. |
| It doesn't expand or adjust as per device size. | Expands and adjusts based on screen size and device. |
| Tracks single click-through link. | Tracks multiple click-through links and also includes tracking of users' metrics. |
Rich media ads outperform the standard display ads by 267%, as per eMarketer and have also proven a trajectory factor in online businesses' Reach, Recognition and Recall (source: The Drum). This is because it bridges the gap between advertising and audiences due to the involvement of engaging elements. Moreover, these ads are also called HTML5 ads as it changes the position of the campaign based on the screen size and easily adapt to users' device, resulting in a friendly user experience.
Rich media ads come in different ways and formats such as:
Flip: It's an immersive display format with an interactive model which gives the audience complete control as they flip to see and know more about the brand or product.
Cube: It comes with an attractive array of images that turns automatically or with user interaction. This helps marketers highlight the brands' offerings at a time when the cube spins around a full 360 degrees.
Panoramic 3D Motion: This is the most realistic way of exploring the product's interior or exterior by moving the phone in different directions. Its high-resolution rich media creatives give an immersive experience to users.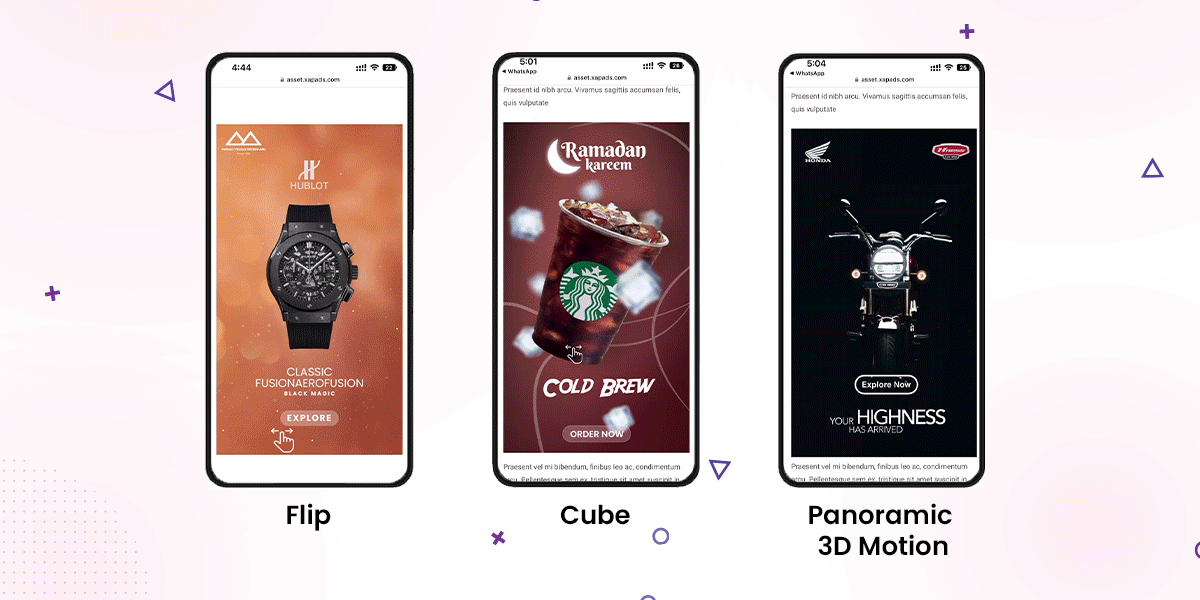 We specialize in Rich Media Branding & Innovation and have a lot more innovative rich ads in store to help marketers, advertisers and growth managers for efficiency and effectiveness in campaign performance. You can explore our plethora of Rich Media Offerings at https://www.xapads.com/smart-innovations/ and get in touch with us to know more about it.