Prediction of Indonesia's Digital Landscape That Will Become a Trend in 2022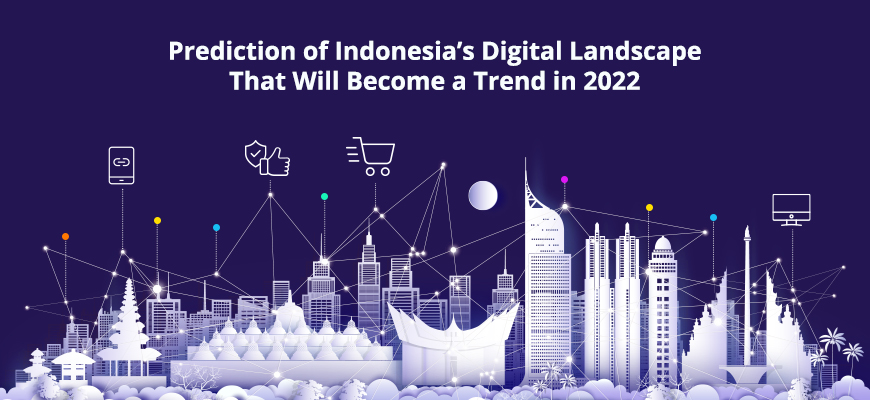 Prediction of Indonesia Digital Landscape in 2022
Indonesia is emerging as one of the world's fastest-growing digital markets with a smartphone population of 72.25 million as of 2021, the country holds tremendous potential for local startups and foreign enterprises looking to disrupt this emerging market. With 2022 on the horizon, market advertisers can unleash the potential of app economy growth by harnessing the potential of technological innovations.
Reasons for the shifting Digital Landscape:
While the pandemic was a huge threat to media sustainability and advertisers as it changed the advertising dynamic, business models, technological applications, and regulatory changes hence what worked for digital marketing strategy in the past might not work now. However, the spike in consumers' online content consumption also ushered in a new advertising era and in 2020, the internet penetration rate in Indonesia stood at 69.8 percent and is estimated to reach 82.53 percent by 2026. (source: Statista)
While the accelerated user base has increased there is still a lot of untapped audience as Adtech is right now in its growing stages here. Though the internet penetration has helped advertisers in discovering untapped audiences there is still a huge unexplored data audience that can increase the visibility. Advertisers too are all set to bring a boom into this market because in 2021 the ad spend in the Indonesian market is approximately $2,124 million wherein, 67% of total ad spend will be generated via mobile (source: Statista)
Unorganized market with great potential makes it challenging for the advertisers to acquire quality users and retain them with post-install engagement in a brand safe environment. According to eMarketer, mobile advertising globally that includes massive search and brand budgets totaled $241 billion in 2019, and is expected to reach $368 billion in 2022. The share of app install ad spend will therefore grow by 30% by 2022 to reach almost a third of mobile ad spend.
How Adtech industry will revolutionize the digital landscape
Indonesia has a very active digital population therefore, adtech is going to revolutionize the digital landscape with its new and innovative technologies:
5G:
Indonesia is home to 268 million people and has the world's fourth-largest number of Internet users of around 185 million and accessing the internet from their smartphones is approximately 68 percent in 2021. According to the reports, 58 percent of users spend between two to eight hours, and nearly one-fifth or about 20 percent of them spend eight hours or more on the Internet on a daily basis which will lead to economic growth with approx 267.4 million mobile users, source:
Therefore, there will be faster-turnaround time for digital services and once 5G is in full swing more consumers are going to have access to content across platforms. To stay ahead, businesses need reliable advertising intelligence to develop efficient media strategies which will help differentiate themselves from their competitors.
OEM utilization:
Further talking about technological innovation in-app & on-device (OEM) advertising are increasing for gaming and non-gaming apps in Indonesia, making in-app bidding a hot topic. But the limitations in the app environment have prevented widespread adoption of OEM inventories, but this is rapidly changing as mobile Demand Side Platforms and mobile ad networks are coming up with sophisticated solutions to enable buying in-app inventory at scale while adapting real-time bidding protocols between web and app.
Digital Payments and Fintech revolution:
The amalgamation between finance and technology is striving to be a progressive transformation amongst digital payments and fintech verticals. Whereas, the factors that drive more digital ad spend in Indonesia would include fintech and alternative finance options e.g. Digital Bank, P2PLanding, Cryptocurrency, and eCommerce tech investments. The domination of big investment brands such as major tech Groups like: Goto, SEA, Grab, EMTEK, DJARUM etc is also predicted as they lead & cover all sectors and user needs of the ecosystem.
Moreover, the market's largest segment will be Digital Payments with a total transaction value of US$54,493m in 2020. The Neobanking segment is also expected to show a revenue growth of 57.8% in 2022.In the Digital Payments segment, the number of users is expected to amount to 221.07m users by 2025.).
Other verticals:
The rest of the categories such as Business, E-commerce, Food delivery, travel and OTT will pick up depending on regulation updates in the region. The dynamics of Global app install ad spend is set to grow to 118 billion U.S dollars by the end of 2022, therefore generating heightened interest as an increasingly important and growing subset of overall mobile ad spend.
Indonesia is a market experiencing hyper-growth, with 106 million mobile internet users in 2019 and a predicted 126 million in 2022. Implementing a holistic digital strategy will enable advertisers to grow in the digital age. This will take Indonesia's economic growth to another level and the country is set to become home to digital innovation in the coming years.
Written by: Edo Fernando,
Country Head , Xapads Media, Indonesia