Meet Team Xapads at Adexchanger Programmatic I/O, San Francisco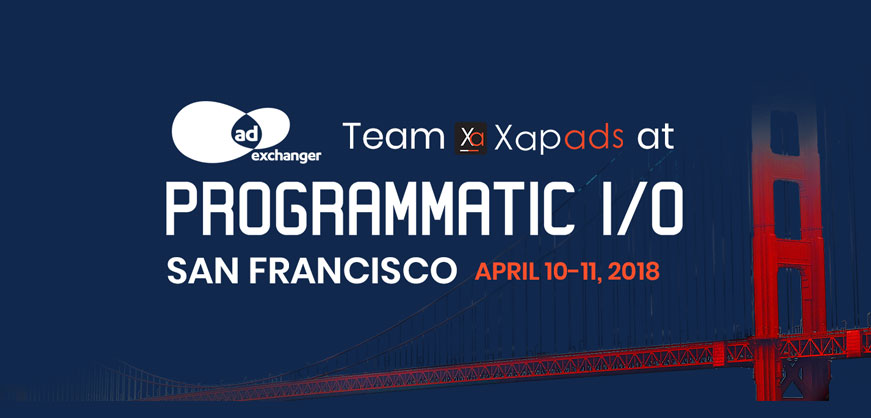 Adexhanger Programmatic I/O is the original and the largest programmatic media and marketing conference worldwide. It is an annual event in San Francisco and New York. This industry summit attracts thousands of marketing executives from top brands, media, publisher houses, advertising agencies and technology providers. These conferences are must to attend for the programmatic industry.
This information heaven for digital marketing is slated for 10-11 April 2018 in San Francisco, USA. On Day One this year, the industry professionals get to attend workshops spanning programmatic disciplines with separate tracks on the buy-side, sell-side, operations and location & apps, along with the basics of programmatic.
Day Two will bring the audience together for special brand marketer and publisher case studies. Along with discussions on key topics like as GDPR, and fireside chats with leaders in the industry.
This event is a must attend as it provides immense opportunity to explore insightful presentations, informative panels and in-depth workshops with programmatic leaders of the industry. It is a great learning platform about what the future of digital marketing holds.
The organizer of the Programmatic I/O San Francisco 2018, 6th Conference on Programmatic Media and Marketing is AdExchanger. AdExchanger, an award-winning integrated media company that includes publishing and three large industry conferences devoted the data-driven digital marketing space. AdExchanger also produces Industry Preview that provides a larger look at the year ahead in digital marketing technology and two conferences in programmatic media.
Meet us:
Our team will be attending the conferences on both the days. We look forward to meet you, contact us: ramneek@xapads.com