Make The Most Out Of Your Campaign During This Festive Season!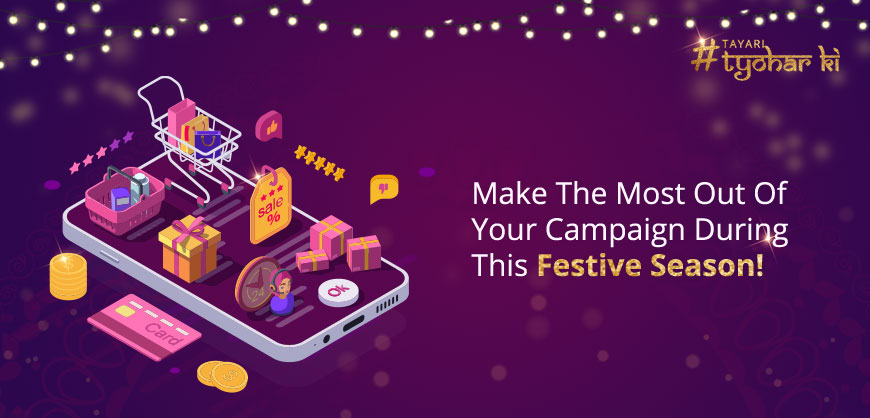 The good times are here with the festive season and as it commences, we wish your brand spreads warmth on all relevant online marketplaces. The pandemic era wasn't easy as it affected all the business verticals due to the nationwide lockdowns so, now in the subtle post-pandemic world, we all are looking forward to getting back in the spirit of festivities.
With most users planning to make online purchases, we understand the importance of an effective marketing plan that involves the execution of different adverts on an app, website, browsers, OEMs etc.
So, we are here with some tips and strategies that will actually make a difference in your festive campaigns by ensuring that you are tapping the right target audience
Innovate & Grow: In an ever-changing and growing digital advertising landscape, what separates your campaign's execution from others is innovation. The perfect combination of targeted audience and a unique way to showcase your ads create a brand image that further determines and propel the results and performance.
Target The Audience That Converts: To know the target audience is the foremost part of a campaign strategy and understanding them based on their buying patterns, categorical interests, age and spending powers will not only provide you with better ROI but also enhance the reach and image of your brand.

Protection With Sophisticated Anti-Fraud Tool: Unfortunately, fraud is still the biggest threat to maintain the desired ROI. If an ad campaign is not supported with pre/post bid solutions to prevent fraud then even the best of its strategies can turn into losses. So, we help with anti-fraud solutions before it reaches the advertisers.
Good Brand-Recall Strategy: If creating a brand name is important, having proper means for brand recall/re-targeting strategy ensures the success of overall spending and campaign execution. Ignored by many media planners, re-targeting helps you to achieve better ROI and results for the overall campaign lifecycle, as it engages loyal/returning customers to keep coming back for more.
Granular Reporting: It is important to keep a track of the best-performing strategies and campaigns as it helps to reduce trial's ad spent and provide profitable insights. Empowered with more details like city, source, demographical, appographical, placement and creative reports, advertisers can be more sure about effective targeting and increasing ROI.
Creative Edge & Right Media Channels: Associating with Xapads won't have you picking between creativity and quality ad placement as we have collaborated with top websites and apps to ensure that your brand not only reaches the audience but gets the attention it deserves.
Maintaining High Campaign Hygiene & Brand-Safety: The most important objective of any campaign is to increase the user base ensuring high fraud hygiene. We at Xapads are empowered with MRC accelerated tools and in-house capabilities to analyze and prevent fraud patterns of the campaign at impression, clicks and install level.
Utilise OEM Inventory & Premium Apps: Use OEM inventory resources such as Samsung, Vivo and Oppo, as it's a crucial step towards acquiring the relevant audience. For example, if a specific user's cohort is interested in 'home décor products' on Vivo's inventory from the same or nearby geographies then, targeting them will increase both CTR and ROAS.
We at Xapads Media are excited and prepared for the peak festive season and we understand that this year it's more important than ever. So, with our AdTech stack, we empower you to plan, innovate, assess and utilise your marketing budget effectively.