Empower Your Campaigns With Personalization This Festive Season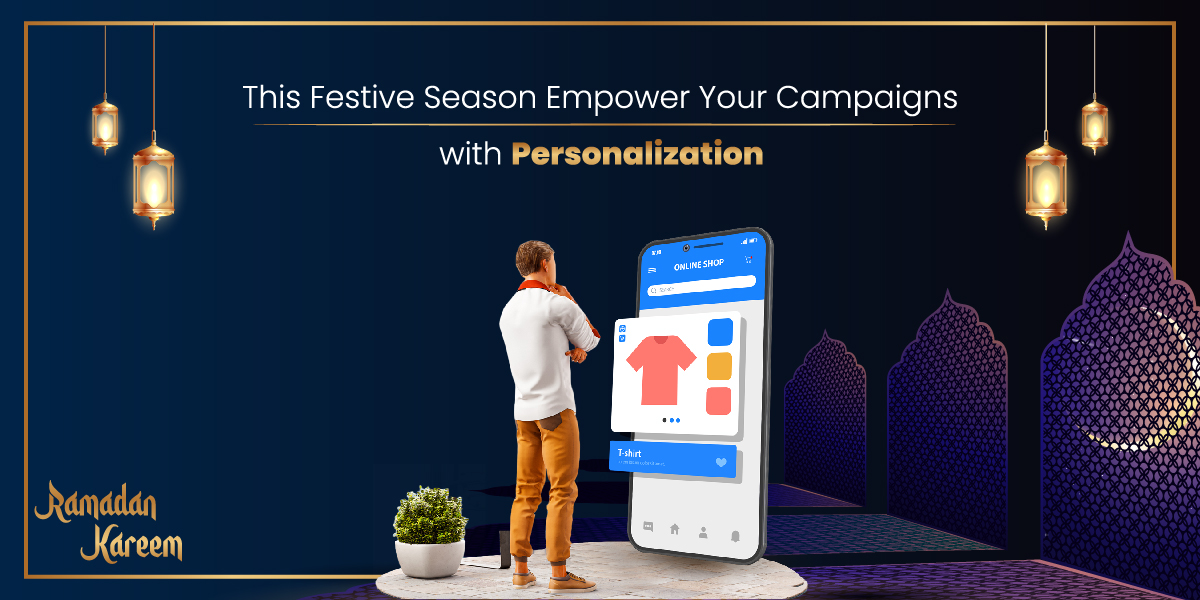 Festivities like Navratri and Ramadan have begun and the brand owners have also started preparing themselves to showcase quality offerings to consumers. Since people want to get the best of their interests along with exclusive deals and discounts that also encourage them to know more about the brand and how willing it is to cater to their personalized needs. An app marketer always desires to provide netizens with content that resonates with them and during the festive season, empowering personalization in marketing campaigns can help to skyrocket sales.
Let's discuss more about personalization and why it enhances campaign effectiveness during the festive season.
What's Personalization?
It's the most effective way for brands to connect with consumers that can turn inactive or churned users into active ones. In fact, during the festive season, it can do wonders for brands with its power of relatability as it fits in with people's needs and creates stronger brand recognition and recall value too. It's like a 'behind the scenes' activity of campaign operation that helps marketers understand the user's behaviour and engagement with the inventory. Hence, it becomes a crucial aspect of making any campaign successful and winning as it bridges the gap between advertiser and audience while developing a trust factor between them that netizens frequently return to the brand, resulting in quality user retention too.
Why it's essential for marketers to empower personalization in campaigns?
The digital ecosystem is evolving wherein, Personalization is creating a buzz, encouraging marketers to adapt to it for a better user experience. Users feel valued when brands communicate with them at engaging touchpoints with offerings, tailored to their needs. This concept is called Hyper Personalized Marketing since it enables marketers to comprehend users at every touchpoint of their journey and predict their behaviour to provide them with what and when they want as per their preferences.
Overall, hyper personalization is a way of building a trusted and fruitful relationship with consumers abreast with clarity and a better understanding of their needs and wants. During the festive season, this can be like the icing on the cake for campaigns since it drives memorable festive experiences for users.
How hyper personalization can make a difference in brand presence during the festive time?
It won't be wrong to say that every consumer has different perceptions, preferences, likes and dislikes which is a little daunting task for marketers to tap into each one of them individually. But, all thanks to Artificial Intelligence which has made the process easier for marketers with its data-driven predictive algorithms. AI helps marketers to segregate the group of users sharing common or similar interests and tap into them with a plethora of offerings that match the interests of the segmented users.
This can also help in providing consumers with seamless experiences by giving a 'vocal to local' i.e., by doing Vernacular Advertising. Users find a relatability in the content shown in their local lingos or native dialects and automatically give preference to it over those in standard languages. It's also true that the language in India changes every few kilometres. Thus, it's better to adapt to vernacular adverts for different inventories and showcase the regional content when users remain active on their devices as it would help in driving more meaningful and measurable results.
AI in personalization also helps execute highly targeted advertising campaigns, which complements omnichannel marketing since users these days prefer to interact with brands offline and online. Sometimes they also consult their smartphone to make online purchases which they think to make at the physical outlets. This happens majorly because of the Automated Product Recommendations via AI that influences users buying decisions. As per Statista, a survey was conducted globally among business managers and people familiar with user experience, MarTech etc and 35% stated that they were successfully achieving omnichannel personalization. This is because netizens get catered for various other variety of products that matches their personal needs and generate quality leads.
Though advertising technology is evolving, considering the fact that users live in a phygital environment wherein, adtech connects the digital world with the physical one to provide personalized interactive experiences to the users. Therefore, tapping into users via Precise Targeting acts as a saviour for brands and marketers. This can be a key to success during the festive season because focusing on users' necessities and mapping context accordingly often encourages them to choose the brands that think of them. As a result, it develops an affinity between the advertiser and the audience that leads to quality outcomes.
Personalization in marketing campaigns during festivities leaves no stone unturned because its blend with AI along with hyperlocal and predictive algorithms can effectively create brand awareness by boosting sales. Therefore, incorporating personalized tactics in the festive campaign with such cutting-edge technology can better help marketers to target niche audiences and attract more quality users.
Written By: Alok Pandey – VP, Sales & Marketing – Xapads Media