Israel Mobile Summit 2016 – Revolutionising mobile ecosystem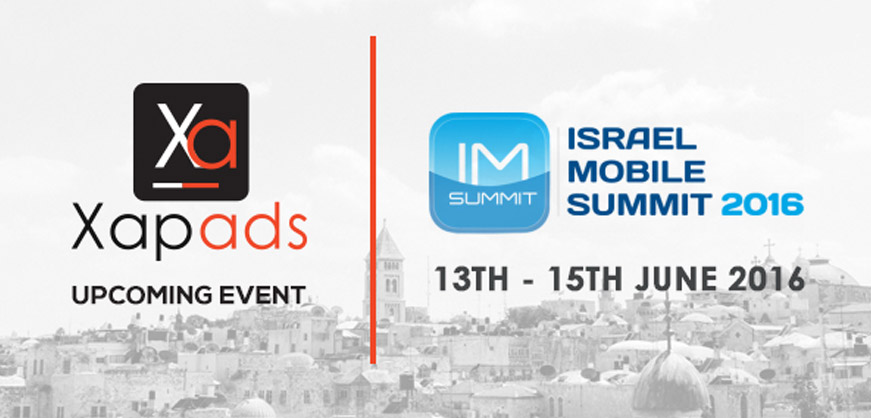 Xapads Media have marked its presence at almost every important event of the industry all across the globe and this time we are heading to the Israel mobile summit which will take place in Tel Aviv on 13 to 15 June, 2016. The greatest mobile show in the town is expected to congregate 80 speakers and 2000+ International players. Entering its 6th year, the summit features three tracks of content, keynotes from top panels, innovation showcase and off course lots of networking. Xapads brightest minds will be there to discuss the different parameters of mobile eco system in order to grow relationship with our clients and create new ones.
The summit will feature the top speakers from all around the world coming to converse on the latest news of the industry. It is part and parcel of larger 3 day event called Israel Mobile week which features experienced panels to speak about the hot topics that can revolutionize the course of Mobile internet industry including targeting, optimization, innovation and app monetization.
We hope to meet with SSPs, DSPs, Technology partners, app marketers and mobile industrialists where there is so much to explore, so much to learn, so much to take home and where we see impending synergies for building connections that will be immensely vital in the future ahead especially in user acquisition efforts.
We're glad to offer you 1×1 meetings during the Summit over the glass of wine, so book a one with our senior most representatives and let's discuss new business opportunities there! We will be very happy to see you there!
Among the team members present will be our
CEO, Mr. Nitin Gupta, +91-9650334646,
VP (International Sales), Mr.Ramneek Chadha, +91-9999858337,
VP technology Mr. Rohit Arora, +91-9811111572 and
VP Mobile Mr.Pradhjinder Ahuja, +91-9650440777.
To request a meeting in advance you can write to us at: – support@xapads.com.
Israel Mobile Summit 2016 Here we come!