How Does Xapads Support Working Moms – Little More Care!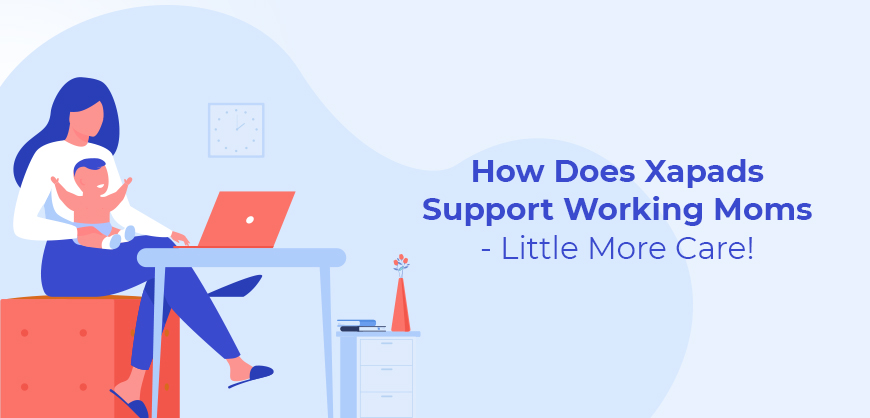 A mother is never off duty since she has to check off all the boxes of her to-do list daily, be it her own space or the corporate world, and that's why every mom is special because "their heart is like the heart of a warrior" said Claudia Goettig Powell. When it comes to mom at the workplace, she is a superwoman as she puts in all her efforts to manage her corporate roles & personal responsibilities which is really a never-ending thing. To give them some relaxation & realization that they can also take a deep breath and live as per their desires, we at Xapads help them with "A Little More Care" and affection because they deserve it.
In the hustle-bustle of daily schedules with 'n' number of things, one constant thing is that moms keep everything and everyone on priority but expecting, lactating and working mothers need to understand that they have to take care of themselves first. We have a lot of moms associated with us and we do every possible thing for them to ensure that they remain stress-free.
We strongly believe that it's not only about Mother's Day or Women's Day, rather every day that a mom should be pampered and in doing so, here is how we contribute to care for them and make their loads lighter.
Maternity Leave: Maternity is a time where a mom undergoes a lot of concerns about the health of her own and her baby, family matters etc and we understand the concerns; thus, we try all possible ways to keep mothers stress-free and relaxed during such times and provide 6 months of full pay maternity leave so that they may calmy manage their personal roles. Along with this, we also try to keep a check on all the associated mothers with us and their babies to know how they are doing.
"My manager is the most caring & always keeps asking about my health, also I could get a day off for my doctor appointment without any questions. Post-delivery, he and HR personally visited me to keep a check on me & my baby's health. Also, Xapads provides health insurance for maternity to avoid any chaos during delivery" said Ashima Shukla-AGM International Delivery.
Productivity & Efficiency: When it comes to mothers working from home, their teams remain connected with them which doesn't let their productivity get hampered. Moreover, the fellow teammates are supportive and understanding towards each other and try to manage the tasks in absence of a person on maternity leave.
"Xapads beautifully made me comfortable during my maternity and I am very grateful for such an understanding team where teammates are very supportive and even my manager sometimes attended my meetings on my behalf when I felt nausea. Post-delivery I never felt unwelcomed and whatever I missed during my maternity leave, everything was explained to me very nicely so that my productivity doesn't get hampered. While working from home, there is no bombardment of calls or emails once I clock out for the day and I never feel hindrance in efficiency for not being physically available as my team is just a phone call away" added Aditi Kulshrestha-Manager Domestic Sales.
Day-Off: A mother barely thinks of taking leave for herself as she prioritizes everything above her. Though we have a "no question asked leave" policy for all but still, we encourage moms associated with us to take a day off just to relax and spend quality time with their near and dear ones.
Work From Home: We understand that travelling is a major concern during maternity and in fact is a risky factor, thus, we provide "work from home" facilities on a timely basis, pre and during maternity or when required by peers which can be extended on personal grounds, post-maternity as well.
One of our team members, Aditi Bansal-AGM Accounts says that
"Xapads is my first organization and I thank them for supporting me during my maternity because I got to know about my pregnancy during the first lockdown. I am associated with finance but during that time, I rarely got any workload or pressure and my health became Xapads's priority. I made use of their provided medical insurance and now when I am a mom to a kid, the organization completely supports me in terms of working from home. If they couldn't have done that, I might have had a hiatus from my career. Presently also, I am glad that Xapads has given me the liberty to come to the office in any 'half" of the day and based on my convenience sometimes I come in the first half and sometimes in the second half and rest I work from home. This helps me in looking after my kid".
Likewise, mothers are able to look after their personal and professional goals quite easily without mixing them both.
Flexibility & Balance: Moms on WFH have complete flexibility and are not bound to a fixed-time job as we understand that working from home is also a task in itself because there are a lot of things that remain hidden from the peers in the office. And supporting these factors, our New Joinee & New Mom at Xapads Kritika Tyagi-Manager UI/UX Designer says that:
"The organisation is well cooperative because I came across my pregnancy in my previous organization and during the maternity, there wasn't any peace of mind, tight deadlines were something that I wasn't supposed to overlook which sometimes became so distressing. Like Xapads, I never found anyone which so beautifully supports new moms like me. I have no restrictions in following the official shift timings and am allowed to come on alternative days. I can log in early at 8 AM as well before my baby wakes up. I can fully take care of my child without compromising my and my kid's sleep. This is what I say flexible childcare and flexibility at the workplace since I don't have any pressure as well. I am short of words, all I can say is a big thank you to team Xapads who are so cooperative & supportive"
These factors enable our working mothers to accommodate shifts based on their schedule and convenience.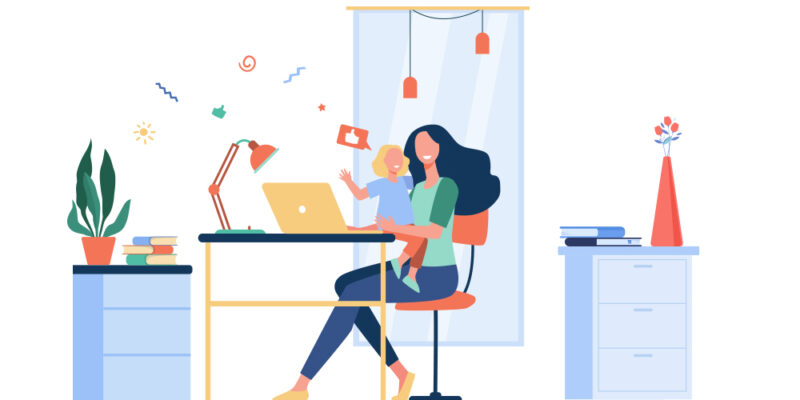 Medical Assistance: Every parent wants their child to get the best medical treatment and associated facilities during and post-delivery. Hence, we provide our peers with insurance to seek the best medical aid possible and the newborn child also gets covered under it
This is how we take care of our moms as it's our way of thanking and appreciating them by ensuring that we care for them.