Great Place to Work® Recognizes Xapads Media as One of India's Best Workplaces
Xapads Media has been recognized as one of the Great Place to Work®, we couldn't have been more happier and proud for the recognition. We have always believed that, "If everyone is moving forward together, then success takes care of itself", and stepping on this belief we have managed to create a Family of our own, where everyone takes care of each other and grows together.
Like all good things, a great work culture is also a day to day process, a systematic process that includes everyone, pulls each other up, listens to every voice, makes decisions together and most importantly grows together. We are proud of our culture and life at Xapads as that brings us together and makes it a one big Happy Family.
About Great Place to Work:
Great Place to Work® is the global authority on building, sustaining and recognizing High-
Trust, High-Performance CultureTM at workplaces. They have crafted our perspective by learning from great leaders, surveying millions of employees, and examining thousands of the best workplaces around the globe. They help organizations quantify their culture and produce better business results by creating a high-trust work experience for all employees.
Great Place to Work®, in their systematic survey found Xapads not only eligible but above par in many areas of evaluation. They have built a methodology to identify and recognize companies that have successfully created great workplaces FOR ALL, running on core principles of Credibility, Respect, Fairness, Pride and Camaraderie. We are humbled to have scores in par with Top 50 organizations they have surveyed in all of their Core Values.
Taking you all to a little sneak peak of our scores.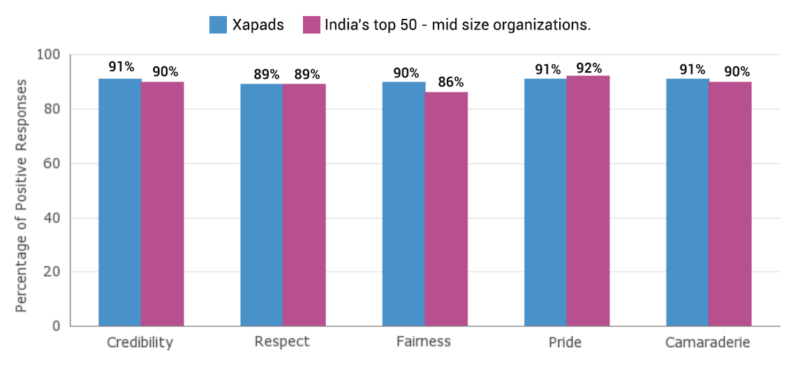 Evidently the scores in itself have backed our belief that "A group becomes a team when each member is sure enough of himself and his contribution to praise the skills of others," but this has also encouraged us to be better tomorrow, to grab that extra percentage of scope left and to become one of the most Happiest Place to work.
We all have been through tough times during Covid-19 waves and this recognition at a time like this is also a reflection of how we survived those testing phases together. Using this platform we would like to give a big shout out to everyone and anyone who has helped each other and raised beyond. Also, we would like to mention our Human Resource policies which hold a very important role in bringing us all together as a team that Eat, Play, and Work together.
We are very humble to accept that Xapads is a Great Place to Work for everyone who wants to make a difference. Looking forward to having more and more like minded people under this beautiful umbrella.
About Great Place to Work Certification:
The certification is globally recognized both by the employees and employers and is provided to the organizations based on what their employees report about their workplace and experience. Therefore, organizations aspire to achieve a badge of certified great workplace abreast with recognition of "employer-of-choice".