Employee Survey: Great Place To Work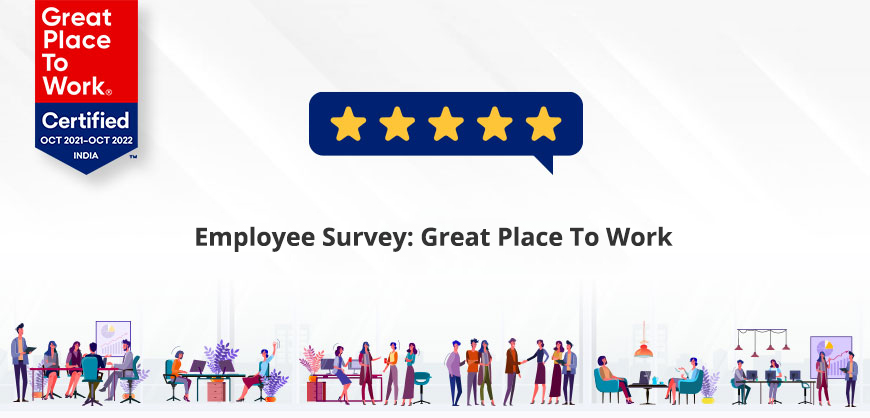 A workplace is identified as the second home for the co-workers and usually, the success of every organisation depends upon their happiness, for us at Xapads our team is our most important asset. We strive to nurture, grow and help every person who is a part of our organization and today because of these efforts we have officially been certified as a Great Place to Work. This badge of honour is for every person who identifies themselves as Team Xapads and invested their trust in us. We are humbled by the laurels our peers shared about us in the extensive Great Place to Work survey form; via which, we have scored 90 for Trust Index which is at par with the top 50 esteemed mid-segment certified great workplaces.
During the pandemic, we tried creating some covid-care policies such as helping teams and peers with resources, bi-yearly on time appraisal cycle, no salary deduction, waived off leaves for the covid sufferers and all possible things for our coworkers' welfare and, we are glad that these were helpful in connecting with them emotionally better even in worst conditions.
One teammate wrote,
Xapads is a closely-knit family and not just another Company. The company operates on the model of "One for All and All for One".. Not only we are creating world class Ad-Tech solutions, but we are having fun on the way, sticking together during thick and the thin. During Covid, our Office whatsapp group was used as a Covid Helpline, procuring Hospital Beds, Blood, Oxygen, Medicines for everyone in the need. Proud to say together we saved lives of 10s of people around us.
The survey also says that the teammates feel respected and supported at Xapads which makes us immensely humbled; wherein, one of them added that
In my organization communication is the key. We have a flexible work environment. My organization always supports me. My organization respects every employees.
Another coworker said that the camaraderie and sense of belongingness have added to their faith in Xapads,
Yes, This organization cares a lot about their employees, I feel like Home here. I am open to share my views/Ideas. Xapads is a Great place to work in terms of Recognition/ Safety/Growth. Treats employee on a equal basis. Supported employees during Covid, No Salary Deduction, Respect, Flexible work Environment, Team Work.
In the context of learning and teamwork, another peer added that,
A family like culture. Every work-related interaction/discussion/Feedbacks are given very calmly, politely, logically, fairly. Everyone is treated fairly when it comes to any work-related issues. Managers speak very politely while explaining anything and everything related to work. Colleagues feels like a friend and not just a colleague. Birthdays/Anniversaries/Family occasions are celebrated together and we are made to feel very much at home even in this wfh situation.
As per the Great Place to Work, Xapads maintains an open hierarchy to build a strong foundation of credibility therefore, one of its coworker said that,
The best part about this organization is that there is no delay in any kind of work and you get speedy replies from employees of all the teams. Also everyone is very cooperative while working and communicating with each other. The organization leaves no stone unturned in appreciating your work or celebrating your special moments. The organization supports and motivates you in aligning your professional and personal goals.
Another one was thankful for our HR policies which promote equality amongst all and added,
I have joined this organization 6 months before and in these months i like the most about Xapads is we celebrate each and every festival and even the happiest day of someone's life like birthday. Xapads always take care their employees like their family. For example they send the baby kit hamper to employee who become parents. They celebrate each and every happy moment of their employees like a family. We do friday parties. So I like everything about the Xapads.
Moreover, to maintain a zeal amongst the teammates, Xapads puts its efforts to prioritize mental health and equip them with 'work & play' activities so that they feel calm and happy while being productive.
Disclaimer: Great Place to Work shared these testimonials anonymously without revealing our coworkers' name and credentials but this is the kind of feedback that helps us thrive and work hard for a better future.