Celebrating 12 years of Success and Envisioning the future – Employee Sayings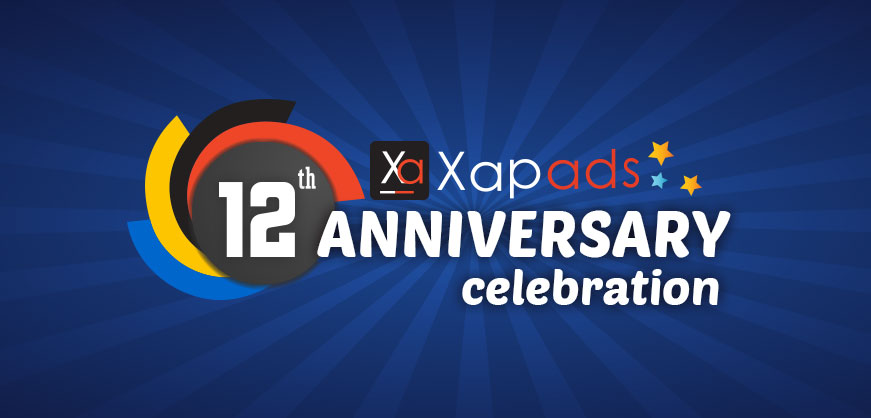 Going from start-up to scale-up calls for celebration and party, we have come thus far. Our "recipe for success" focusing on the basic ingredients i.e. quality, commitment, innovation, strategic and excellence have helped us to remain flourishing these last 12 years. As the case with all anniversaries, one has to pause to reflect on the past and consider what has been achieved. Xapads has not only taken a step forward towards success but set a landmark in the industry. Our team has worked consistently this whole time to achieve our fundamental goal – becoming the Standard of excellence in the market. Some of our employees who have been part of this boundless growth are sharing their half a decade of services in Xapads. Let's see what they have to say :-
Anuj Yadav (Sr. Media Manager): I have practically grown up at Xapads Media when it comes to my career abilities. Four years out of 5-year career has been well spent with this wonderful Xapads family. The kind of exposure and guidance I have received so far has been incredibly phenomenal which has helped me to mould myself into a well-formed professional. I can proudly say that I work for such organisation that not only motivates to be innovative but also gives you the needed freedom to do things and teaches you things that no other organisation can. Many more milestones to cover soon …. All the best for my company!
Sandeep Chauhan (Sr. Media Manager): Xapads is an awesome place to work filled with positive energy and dedicated colleagues. I found a good sense of team spirit here and always got motivated to give my best. The reason why Xapads is a successful organisation is helpful management, open culture and healthy work environment. I feel very lucky to work with such team. The management is so helpful to every employee that they understand each and every individual's issues and help them accordingly. I have observed that promotion is directly proportional to the performance, no politics. We work in one direction i.e. trust which is key to the success. Really feel proud to be a Xapadian!
Sanjeevni Kaul (Sr. Manager – Performance): People often say that motivation does not Last Long. Well in my case I am lucky! I still remember my first day at Xapads! Such a welcoming Management and happy faces all around. Xapads has this cool environment wherein the person Performs as per his/ her understanding, unlike other organisations where employees work like Robots. If there is something I have learnt from Xapads is "Delivering Quality " #Proud Xapadian.
Piyush Rawat (Media Manager- Sales): It's been almost a year working with Xapads media and I have gained skills and experience that I never imagined thanks to the positive work environment. Management is very supportive here, especially to your ideas and suggestions. Xapads has always provided me with various boulevards to grow from strength to strength. I really feel proud to work with Xapads.
Aditi Bansal- (Sr. Manager – Accounts): Although new to the organisation, it feels like I was a part of the team forever. One thing that I admire the most is the confidence given to the employees to do their best and work to their full potential, confidence and support. I would love to continue this association for many years to come.
Harshita Sehgal (Content Writer): I have recently joined Xapads and the work culture is here quite cool. The way I was welcomed here with a flower bouquet and chocolate was something very unusual and very sweet. The employees here are very friendly which makes it even a better place to work. I am looking forward to working with this organisation for a long run.
Rahul Khanna (Media Manager): When you are passionate, want to learn something innovative and learn new things then this place is just for you. This company is lead by Young guys with the Dynamic and cognitive approach. The attitude of a top founder is open to give you opportunities. I have never seen such a Coolest CEO in 8 years of my work experience. Introspection is the key here. Happy to be part of Xapads Media and I wish all success and luck.
Ashima Shukla (Media Manager- International): It has been an amazing 3 years in Xapads, thanks to such friendly bosses and colleagues. It has been a pleasure to be working with a team of creative, innovative, and enthusiastic people. The best way to start your career if you're fresher, Xapads provides great exposure to the digital marketing industry. Great work life, flexible timings, parties, are all part of it, we all work here as one BIG FAMILY.
Employees often represent their organization's image on and off the office. Greatest investment in corporate world lies in the work force as when people are emotionally invested they want to contribute. One should always treat your work force exactly as you want them to treat your best Clients. Ledger might go for roller coaster ride but good relations with employees always end up the relation ledger on green.