Ad:tech India 2016 – Explore New Digital Opportunities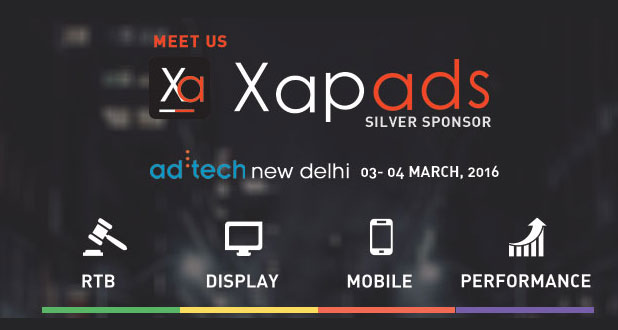 Ad:tech is an interactive platform for veterans in media, technology and advertising field from the across the globe, aims to nurture mutual business partnerships, exchange new strategies, ideas and to expand industry boundaries. The digital expo enables industry to explore and analyze the latest initiatives and trends and let them aware of the new innovations that might transforms the industry in the near future.
The event has become huge and flourishing with every bygone year and this edition will not be any different as 80+ exhibitors and more than 5000 players from 28 countries will grace the expo floor with their best possible ways to derive maximum return on investment during the 2 days of digital extravaganza.
We are delighted to extend our support as a Silver sponsor of Ad:tech 2016, New Delhi and welcome you to shake off the lethargy and get into the digital groove.
What we offer:
We are a fully independent cross channel programmatic ad exchange that rides on latest data driven technology, global reach, precise targeting techniques and tech solutions to offer premium services to both advertisers and publishers. With one of the fast growing mobile network, we also facilitate mobile publishers and developers to expand their reach and target the right audience.
Beyond the conventional platforms, we are also into performance to unlock your digital audience and re-engage them to deliver higher ROI.
Yes, there is so much to learn, explore and discuss at the Ad:tech but it isn't all about sessions or campaign delivery. It's also about socializing and building networks to know people better.
Meet the Xapads team and we will be sharing the right digital solutions with great enthusiasm that powers your growth. Since last edition of the Adtech we have added quite a few feathers to our cap like we are into Mobile, now we have our own fully integrated RTB platform and furthermore with our performance ad platform is here to offer digital media a new dimension.
As this is an interaction between the pioneers, it is only justified to mention the dignitaries present there representing us.
Mr.Nitin Gupta, CEO- +91 9650334646
Mr.Ramneek Chadha, VP, International Sales- +91 9999858337
Mr.Rohit Arora, VP, Technology- +91 9811111572
Mr.Pradhjinder Ahuja, VP, Mobile- +91 9650440777
Mr. Alok Pandey, Sales Head- +91 9873505395
To book a meeting, you can write to us at: – support@xapads.com