A Scary Halloween Evening at Xapads!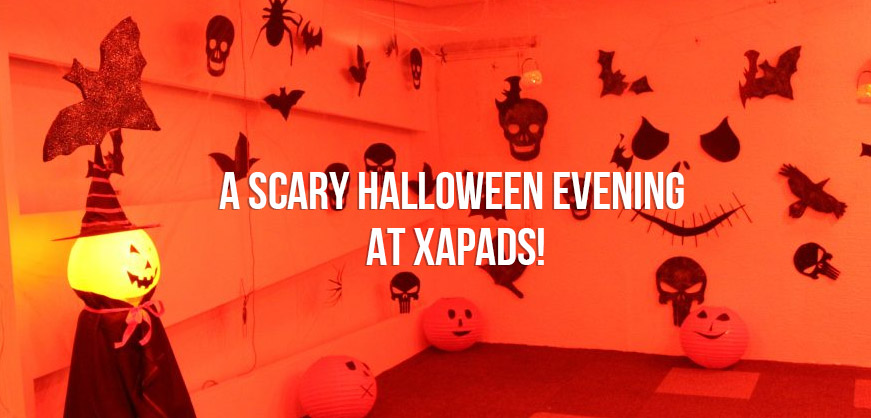 Everyone needs some time off work to mingle with their colleagues and form a bond. And we feel a great way to bring your staff together and highlight your company's culture is to celebrate together.
At Xapads we try to make every celebration grand, and this year for the first time we had a Halloween bash. Halloween marks the end of summer and harvest. It also marks the beginning of the dark, cold winter, a time of year that was often associated with human death in ancient times.
So to get the Halloween vibes the entire office was decked with pumpkins, dark mood lighting and lots of accessories. To take it ahead all of us dressed up according to the Halloween theme. From ghosts to ghouls, from witches to vampires the office looked eerie and in the Halloween mode.
From getting the getups from the tattoo artist, who was there to dress up our employees as per the theme to dancing on wicked Halloween numbers it was a great night.
Let's hear it from the employees:
Events like Halloween give us chance to express ourselves in creative way, it was a fun filled evening: Harshita Sehgal.
Fun, Scary, Spooky…great evening: Aditi
An evening filled with fun, dance and Halloween madness: Pulkit
The jack o'lantern of Halloween will always remind me of this year's halloween party at office : Harshita Rawat
Painted faces, scary lights, everything was just fabulous and bang on: Komal
It was a great experience for me as after school i have celebrated halloween in 2018, It's the time when your inside kid came out, it's really good to see the characters we watch in movies and acting like them was funny. – Aditya Tyagi (Asst Media Manager)
What a scary 😀 and delightful party it was!
The whole evening was incredible, decorations and arrangements were amaizng: Rishant Joshi (HR)

The dance was a blast definitely, i will remember it for a very long time for sure. – Anugrah Srivastava (Asst Manager – AdOps)

Super happy to finally be a part of my first Halloween party, it was a scary night full of fun, music, and dance. Adopting and celebrating the world's culture helps to bring nations closer so Happy Halloween to all of you !!!! Bharat Awasthi