Unlock the Potential of Performance Campaign Programmatically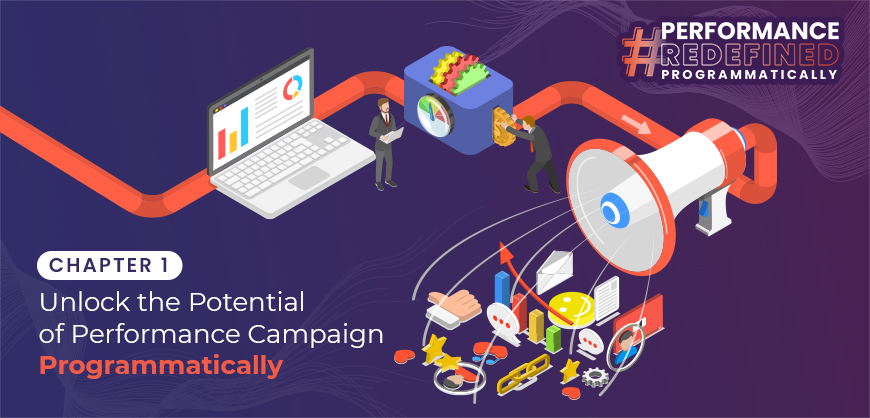 The fundamentals of Digital Marketing haven't changed, instead have added one more component of 'Programmatic Advertising' into its bucket that is efficiently revolutionizing the marketing mix and reshaping the digital advert landscape. Programmatic isn't an "odd one out", in fact, it's a synonym for media trading and a sophisticated facilitator in making data-driven decisions. Its ecosystem incorporates SSPs, DSPs and Ad Exchanger wherein, an inventory is bought through real-time auction and advertisers are enabled to buy per impression, consequently targeting the right audience pool because its process is automated and guarantees unmatchable speed.
However, many times campaign managers and advertisers face some challenges in establishing their brand, its effective recall value with the right medium of brand promotion in a safer environment. Moreover, acquiring and retaining the right audience, creating appropriate ads and monitoring of its real-time ROI assuring that the campaign is delivering the prominent message also becomes a difficult task.
Chris Dobson from Forbes has well said that "Programmatic technology has developed as the facilitator, enabling brands to reach a highly targeted audience at scale and often in real-time, for optimum efficiency and return on investment (ROI)". Owing to this, brands are enabled to scale up their revenue and are incorporating digital-first sales strategies since such adverts are run by automated buying and selling inventory and thus, are cost-effective. Therefore, in 2020, the global programmatically sold advertisement was worth $129.1 billion and was expected to reach $155 billion in 2021 (source: Statista).
Any smart advertiser would want maximum return on investment and be proficient in that is a skill that is highly in demand in the Ad-tech industry. So, if you are missing to incorporate Programmatic Adverts in your marketing toolkit then, you are still not late since there is a possibility to optimize investment by reducing the dissipation of ads and rectifying the mistakes being made so far.
Why Programmatic Ads are a Right Choice for Advertisers?
Constant optimisation of ads facilitates the reach at different stages and even improves efficiency which also makes it the right choice for advertisers. Here's How:
Audience's Targeting at Granularity: Brands don't want their marketing budget to go into vain, therefore, DSPs (Demand Side Platform) and accessible data enable advertisers to make rational decisions and analyse the potential audience to target. This also helps advertisers in reallocating their cost excluding the non-performing audience from the campaign's execution.
Real-Time Insights: Once a campaign goes live, it needs to be optimised to perform better so that advertisers can adjust and set the campaign's parameters accordingly. Thus, they can now monitor their ad spends by making changes to a live campaign without actually waiting for a performance report.
Transparency: Earlier due to the involvement of a middle-man, maintaining transparency in the overall campaign's operations were a daunting task. But, programmatic adverts have given advertisers relaxation because they have complete control over their advertising spend and can have a clear look where their budget is being spent. Moreover, according to the Metamarkets report published in Forbes, 74% of marketers would increase their ad spending by as much as 50% if they had access to more transparent data.
How to Make Programmatic Adverts Successful?
KPI measuring tool: Key Performance Indicator (KPIs) play the most prominent role in increasing conversions since it gives great insights into the business. Thus, to ensure that you are able to track all of your KPIs, you are required to choose the high-performing KPI measuring tool that aims in delivering a comprehensive detail of all the performance metrics.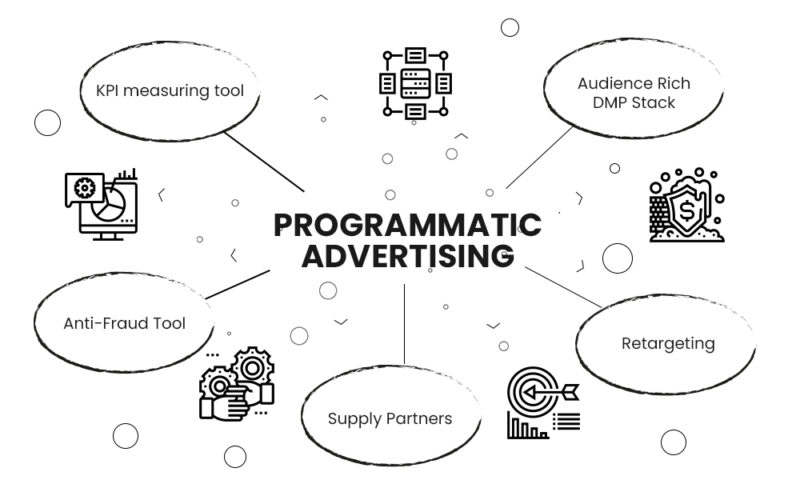 Anti-Fraud Tool: When it comes to programmatic ads, fraud is a serious concern for which having a sophisticated anti-fraud tool in place can save a lot of advertising spend in getting drained. The anti-fraud mechanism detects fraudulent visitors and gives a detailed breakdown to ensure quality ad placements. Owing to this, in 2021, the global size of the fraud detection and prevention market (FDP) was $34.6 billion which is expected to reach $63.5 billion by the year 2023 (source: Statista).
Audience Rich DMP Stack: Programmatic adverts efficiently run on data-driven strategies wherein, DMPs play the most important role. Hence, having an advanced DMP incorporates reliable data metrics from multiple sources that help advertisers to have better audience segmentation based on their interests. This ensures that an ad gets showcased to the right audience at the correct time.
Retargeting: Targeting and engaging the already existing user base is easy because users have already responded to CTA and made actions; so, the possibility of their engagement becomes quite high. Retargeting helps advertisers in showcasing the brand's offerings to the existing user base and they would make the expected required actions since such users are brand loyal.
Transparent & Quality Pool of Supply Partners: For the success of any campaign, the most important part is the Quality and Pool of Supply Partners. A good Adstack always offers a list of premium SSPs where advertisers can cherry-pick the best performing sources for them. With a transparency toggle, advertisers can actually see the sources behind the campaign's execution and can plan its future phases in a much better way.
Mastering programmatic ads can take a while but with the right approach and expert guidance, it can be lucrative for your business. We at Xapads, a leading Ad-tech stack help advertisers in better utilising the marketing strategies that seem the right fit for their business and assist them in improving the results of a programmatic ad campaign. We bring in technology-driven advertising offering 360-degree digital marketing solutions via our proprietary award-winning AI/ML, Xerxes which allows us to generate performance programmatically while maintaining high standards of brand safety and transparency.