Brand Safety & Trust: How Brand Outcomes Ensure Advertisers' Peace of Mind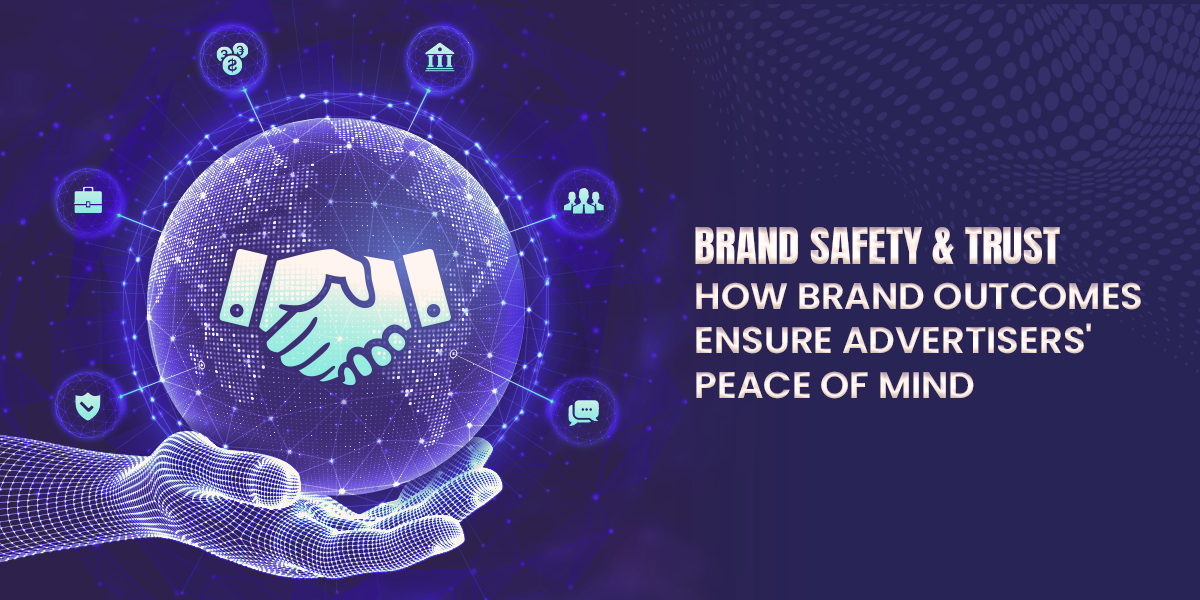 The digital advertising landscape is ever-evolving and it's safe to say that messages reach the netizens at the speed of light which is why the concept of Brand Safety and Trust is gaining importance as these concerns often lurk behind the scenes.
This is the bedrock upon which successful campaigns are planned and executed, ensuring adverts are at the right touchpoint and seen by the targeted audience. Therefore, we strive to support them with our one-stop solution powered and packed by AI/ML algorithms that drive Awareness, Consideration and Conversion ranging from the first stage of the marketing funnel to the final stage of fulfilling KPIs. It helps brands achieve their business goals and objectives, elevating the success of any marketing campaign where every click, view and impression counts and matters.
AdTech Stack Solutions Under One Umbrella- edited
In today's cyber verse or tech-savvy world, the competition among brands is at par since they try to be the leading ones among their competitors via their unique USPs and offerings. Owing to this, sustaining the digital landscape and targeting the right audience also becomes a little daunting for marketers because consumers prefer those brands that deliver tailor-made content, personalised to their needs. In fact, with the availability of multiple brands, they often become brand switchers and look for those where they find better resonating content and cost-effectiveness. Thus, we help brands with our tech-savvy AI-driven solutions that understand users at the initial stages of their onboarding on an app.
We totally agree that these days, keeping ahead of the market competition is crucial for brands because now the driver of growth of the digital ecosystem is Artificial Intelligence, coupled with Machine Learning and Big Data Analytics. Owing to this, the global market size of AI in 2030 is also projected to grow twentyfold and will reach nearly a value of 1,847,495.6 million U.S. dollars (source: Statista). Our AI-centric DMP ensures Authenticity & Consistency in campaign performance since it gathers audience insights, focusing on users' interests and intent at the granularity, enabling marketers to target them programmatically.
Moreover, our AI-driven solutions also drive Responsive Users and lead to Value Propositions as they identify the Unified Inventory Source which tracks different inventories like CTV, OEMs etc. across various locations, channels and platforms. The accuracy in inventory offers real-time visibility which results in enhancing user experience along with scalability in brand positioning and presence. This is because identification of the right inventory initially engages the users with the brands via storytelling content and they better respond to the adverts. As a result, users frequently return to the brand, leading to effective engagement and retention rates.
Well, while talking about brand safety and trust, one issue that cannot be compromised or overlooked is fraud. Though it's a real-time concern that drains the marketing budget without even the knowledge of an advertiser, we have covered you for fraud prevention mechanisms as well. Our AdTech Stack comes equipped with MRC-accredited tools that leverage AI and efficiently detect unethical advertising practices before reaching advertisers. These tools employ metrics and data-cleaning solutions that identify and immediately blacklist the non-human traffic. Marketers relying on such solutions can easily validate the first-party data and remove suspicious actions which maintain brand safety.
Additionally, it leads to the long-term and effective association of brands because our solutions ensure that the campaigns get executed in a transparent environment where transparency is reflected in business operations. This focuses on better analytics and attribution, resulting in campaign optimization and efficient monetisation, fulfilling the campaign's KPIs.
While various solutions possess unique specialities and attributes, they all eventually encourage users to resonate with them. This enables the AdTech Stack to decipher and deliver an absolute user experience, ensuring brand safety and trust requires collaboration across the entire advertising ecosystem. Today, every brand is coming up with something new to thrive in the marketplaces wherein, advertisers, publishers, technology partners, and industry stakeholders must join forces to create an environment built on transparency, accountability, and ethical practices. This will help them embark on a journey towards meaningful and impactful brand engagement in the dynamic digital age with Digital Sustainability.
Our plethora of offerings also include CTV, Storytelling, OEMs, DV 360, Moments, Xaprio and a lot more wherein, AI is key to success as it solves major concerns of the marketers at the initial stages of campaign planning and execution. This further helps them to understand the user better and make them aware of the offerings at the first stage of the funnel. As a result, well-aware audiences perhaps consider the brand and get converted, making the certain desired actions that fulfill the campaign KPI and validate the lower level of the marketing funnel too.
Though all solutions have different specialities, one uniqueness of them is that they enhance user experiences and allow a marketer to address the users' requirements. As they get a pool of User Metrics, based on their history, behavior and associated past actions with the brand. This further leads to Better ROI & Brand Loyalty because marketers can edge users' intent which encourages their decision to make the respected action on the campaign.
Hence, while closing my thoughts, I would like to suggest Brand Owners rely on a sophisticated AdTech Stack having real-time solutions under one umbrella since their effectiveness helps them transform advertising efforts, complementing the marketing funnel from the Discovery and Awareness stage to the final Conversion.
Written By: Gagan Uppal, Country Head- MENA, Xapads Media