Understanding the surge of Online Gaming & Its Impact on Ad Industry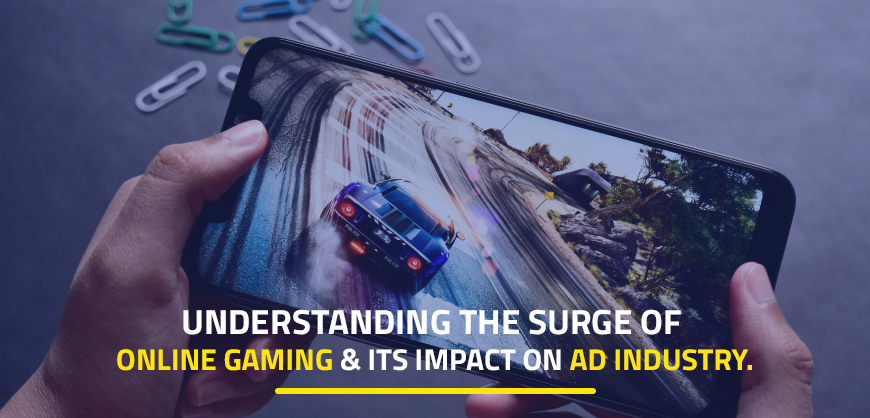 "Many a small thing has been made large by the right kind of advertising."-Mark Twain
This quote by Mark Twain holds true even for the digital advertising industry as with the change in consumer patterns during the pandemic, it is time to shift focus to in-game advertising and its untapped potential.
In the initial months of lockdown, the time spent on gaming apps has increased by 21% with the total customer base crossing 300 million users. This magnification in online gaming has made it the most promising category for digital advertisers. The revenue generated through the gaming industry has increased by a whopping 20 per cent in the last year, as per the report of Essence and is expected to show growth in the coming months as well.
Now the important question is which trends are likely to be seen and how is it going to benefit advertisers? Though Performance marketing strategies will give better results and with the audience becoming diverse, some forthcoming changes will be useful for advertisers. Ideally, when the number of monthly active users is up, advertisers can scale their Ad spent too.
These expected changes depend on a number of factors so here are some trends that will be observed and benefits advertisers can reap.

Higher Reach and reduced Cost Per Click
According to the reports shared by Essence, the data shows that the audience is diverse with changing behavioural patterns and it can be leveraged by placing brands/product ads on these platforms. A wider range of audience has led to lower bid amount and hence CPC has decreased which helps advertisers adjust their Ad spent budget accordingly. In simple words, if the targeted audience base increases, the average bid placed by an advertiser would reduce.
Wider Spectrum For Audience Targeting
The expected audience pool in the gaming industry is predominantly youngsters but recent reports shared by Essence have also revealed that eighty-three per cent of the gamers comprise women and seventy-one percent of users are aged between 55-64 years. This allows advertisers to strategise ad placements for these added demographics. For example, there are many women users so Household product brands can be targeted as they have higher spending power for such products.
Improved Retargeting Results
Retargeting works best with audience segmentation. After understanding the spending behaviour, In-app purchase history and other consumer patterns, sustainable & customised retargeting strategies can be prepared to yield better results.
Increase in average user time
The user time has surged clearly and that leads to a larger digital spend and is a positive sign of development in the Mobile Ads industry. Due to this change, Ads request has increased by fourteen per cent, as per the reports of Animation Express and with this change, advertisers can schedule their ads with flexibility.
High DAU ( Daily Active Users)
With everyone being at home and an increase in average screen time, daily active users increased and with the right strategies, advertisers were able to increase their ROI. According to the reports of Business of Apps, users will watch in-app advertisements if, in return, they receive an in-game power-up. This is a good way to make the most of increased DAU and the retargeting results are likely to improve with this.
As per predictions of The IMARC Group, the global online gaming market is worth $167.9 Billion and India's online gaming industry alone is worth ₹91 Billion. With 365 million new users recorded last year, it's best to utilise this to grow your brand. If you are still skeptical about investing in gaming platforms, it is advisable to take guidance from the key players in the industry. We at Xapads are up to date with these ever-changing and growing industry trends and have developed unique strategies that have helped us make most of the online gaming platforms.
It's the right time so don't miss the opportunity to take your business to the next level and increase revenue by leveraging the efflux of the audience in the gaming industry.