Strategies to Execute a Winning IPL Campaign with Effective Brand Recall Value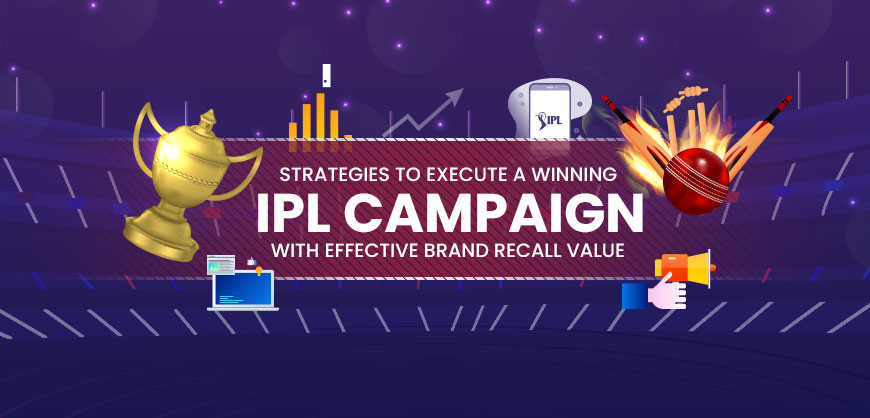 The season of IPL is here and this year, the love & enthusiasm amongst the people are at the surge since, after two years of the covid era, this 15th season brings extra excitement with it which holds true due to their emotional attachment to cricket. IPL being one of the most attended and eyeball catching tournaments also gives brands an opportunity to feel delighted and advertise themselves efficiently. IPL season isn't less than a festival for the cricket fraternity as they curiously wait for it and tend to spend their quality time watching each snick or nick which results in increasing online consumerism. Using this users' trend, advertisers can better tap into the potential audience and make the best use of their campaign to have quality ROAS.
So, let's discuss in detail how brands can acquire consumers and create a good recall value with their online digital presence.
Analyse Audience Behaviour:
Analysing the consumer behaviour is like understanding the pitch before playing.
Understanding consumer behaviour such as their past actions, purchases, buying patterns etc solves half the concerns of an advertiser as he better get to know what a user is expecting from a brand. During the IPL time, advertisers can showcase personalized offerings, tailored to consumers' interests and can also develop a bond with them via which users could drive quality sales and this could be a smashing sixes for brands.
Brand Awareness with the Right Creative:
Online digital advertising is effectively reshaping and reforming the paid media landscape wherein, creatives with a right and crisp message play the most prominent role in acquiring and engaging users. A creative approach of catching eyeballs caters to advertisers with measurable data-driven insights, helps them to find their prospects and enhances the campaign's performance with a stronger brand recall value.
Mobile-First Approach:
Mobile adverts have taken the first seat in the digital landscape due to internet penetration coupled with cost-effective smartphones. "Owing to this, 230 billion apps were downloaded onto which people spent 3.8 trillion hours globally in 2021 to explore and consume online content."
People these days spend a lot of time on smartphones and especially during the IPL season, their time spent on mobile watching matches could be an opportunity for brands to advertise themselves in a more enhanced way that can further help in driving users' engagement rate too.
(source: Statista, Forbes)
Right Ad Placements:
Finding the right placements is like finding the right line and length! Likewise, the eyeballs of users' can be grabbed only if the ads are placed at the right and most engaging touchpoints with a better experience. This requires an advertiser to rationally decide & plan the inventory and efficiently execute a campaign to achieve the desired business goals. Here's how different advertisements can be showcased encouraging users to respond to them:
Video Adverts: Video advertisement has become a trendsetter on its own due to its characteristic of delivering the whole message in just a duration of 15-30 seconds and quickly instigating the user's sentiment that leaves a lasting impact.
"Video Adverts aim to build brand discovery and recall which is why its ad spending is expected to reach $106,879 million this year. " These ads result in generating repeat sales as well thus, it is now an essential part of marketers' toolkit.
(source: Statista)
OEM Adverts: OEM advertisement is establishing its benchmarks as it makes a campaign successful by displaying it at the right inventory. We at Xapads are partnered with top OEMs and help advertisers to advertise absolutely in a brand-safe environment by segregating the audience pool with a data-driven approach. Advertising on the right OEM inventory drives quality conversions and return on investment which can enhance the brand's scorecard too.
OTT Adverts: The rise of streaming video viewership via OTT is revolutionizing advertising practices because people prefer to watch streaming video content through mobile devices which is why OTT advertising has enabled brands to tap into such audiences. OTT ads are growing rapidly because while signing up for such services, a user agrees to receive non-skippable and non-minimizable advertisements.

"This year, the total revenue through OTT ads is projected to reach $281,659 million" as it is making an impeccable impact on the digital landscape and brands are digging dive into it (source: Statista).

Rich Media Adverts: These are a great source of media-based marketing techniques such as push ads, native ads etc as it incorporates different ways of user engagement which helps brands to better understand their audience and further showcase their offerings. As a result, it creates better brand awareness since a user clicks on a campaign that drives high click-through rates and increased conversions as well.
Measure Campaign Performance with MMPs:
The existence of MMPs like Branch, Kochava, Adjust, Appsflyer etc, has made it easy for advertisers to maintain the quality of the original install and attribution of the right source with real-time results. This also helps them in managing their campaigns and marketing spend rationally.
Cricket isn't a national sport but still, it's not even less than that as people have an extreme emotional attachment to it and especially during the IPL tournament. Considering the audience's emotional association with IPL, brands could get a lot of advertising opportunities with personalized offerings which create a powerful recall value. This also helps in having a strong relationship with users and they feel that the advertiser cares for them. It is done by displaying the adverts at appropriate touchpoints with a right and engaging message that gives the much-needed audience exposure and also encourages them to respond to a campaign.
Written by: Anuj Yadav, GM – Sales