Programmatic Advertising – The Future is Now!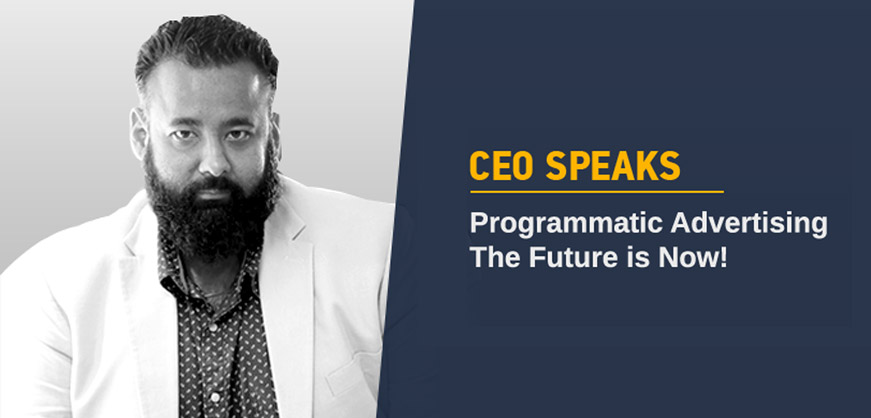 Programmatic Advertising has been a buzz word for the year 2018. All the brands/agencies/ publishers are looking to ride the bandwagon, and many have partnered with some platform or other to leverage the opportunity. Why shouldn't they as 80% of all digital ad spent was programmatic in USA in 2017. Reports predict that 25% of Global Digital Spent will be programmatic by the end of this year.
Here's Nitin Gupta, CEO of Xapads Media, talking about the Future of Programmatic Advertising.
For Us at Xapads Media, the Future of Programmatic Advertising is NOW!
Programmatic Advertising and the Advertisement Technology Platforms have evolved a lot over last few years. There has been an exponential growth in this segment of Digital Advertising and can be mentioned as revolutionary as the birth of the first digital advertisement. This segment is even evolving today, faster than ever and that's why I like to say that the Future of Programmatic Advertising is Now!
What used to be a handful of sites / mobile applications selling their traffic programmatically, now over 80% of Global Ad Inventory is available on Ad Exchanges, giving Brands / Marketers thousands and thousands of websites/applications to choose from and not to be dependent on Walled Gardens. More and more brands are looking to expand horizontally by putting their ad spent on Programmatic Mediums over the walled gardens, not only because of the ROI hence generated by these channels, but also because these walled gardens have become too big for the brands themselves, not offering them the required flexibility and personal touch.
With the introduction of Video on Demand (VOD) platforms, there's been a huge shift in the way users worldwide are consuming the content, what used to be the broadcast as the sole medium of video content, is now replaced by VOD / OTT platforms. So the Traditional TV Media Buys are now converted to Programmatic Buys, which not only gives real-time targeting & reporting but the exact measurability too, empowering brands to not to be dependent on TRP ratings anymore.
Syncing of Ad-Tech's First & Third Party Data along with the Mar-Tech data gives a very powerful tool to brands to reach out to their customers and potential customers better. This data coupled with Artificial Intelligence / Machine Learning based ad-tech engines, empower the platform to take informed calls on spending the ad budget in real time, with the sole goal being pushing the ROI & Reach.
This data was earlier limited to walled gardens because of their sheer size and reach, but with evolution of Third party DMPs, Ad-Tech Platforms, Mar-Tech Platforms, this information is now even accessible to smaller brands.
Audition Targeting instead of Site Targeting – What used to be the buying of ad slots on the websites hoping for the premium / targeted users on that particular website/application is now changed to Audience based targeting. Audience data helps brands to target the same set of users on multiple channels delivering their message efficiently. This has changed the game from a bet to an investment, poise to deliver ROI.
First Price / Second Price Auction – This is another buzz word in Programmatic Advertising. The whole segment was started with second price auction, giving the brands an option to buy the inventory at the cheapest possible pricing. However, with time both the brands and the platforms have understood the power of premium inventory and instead of arbitrage it at a cheaper price, they are now shifting to a first price auction model, to provide publisher their fair share for the content and the user base.
Ad Frauds – There's still a misconception about the lower quality of the inventory available on the exchanges, I beg to differ here. If anyone have taken serious efforts on eliminating the ad fraud, it's the consortium of IAB & Advertisement Technology companies. With the introduction and implementation of ads.txt (authorised digital seller) format on a huge scale and the upcoming ads.cert (for Mobile Apps), the un-authorized and spoofed inventory fraud will be a thing of past.
Further, MRC accredited tools like Pixalate, Forensiq, IAS etc. are working day and night, spending millions to push the pre-bid and post-bid fraud detection tools, which are not only identifying the ad frauds but are also preventing them to pass on the exchanges altogether.
All in All, Millions and Millions are being spent daily on Advertisement Technology, to bring this powerful technology to IoT, AR/VR, Home Technology and what not. It's just days away when this segment of advertisement will be all around us, more powerful than ever.