Interview with Board of directors: Past-Present-Future of Xapads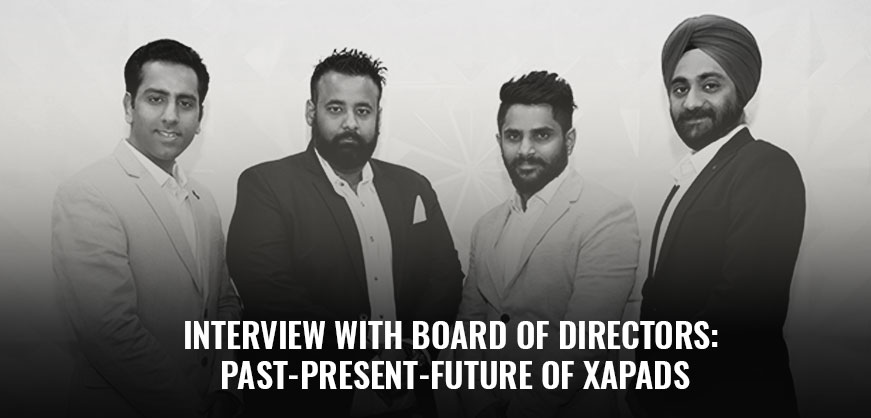 2017 is a special year for Xapads Media; it's our 12th anniversary. No better place than Goa to celebrate this milestone with the fantastic array of people who have helped us to reach this far. We are one of the few companies that have kind of comprehensive approach to brand experience that ensures every expression from our products to culture to communications. We got a chance to get candid with our directorates to talk about their journey and what more can be expected in the next year and beyond.
Congratulations on the 12th Anniversary. Brief us about Xapads' journey of these 12 years?
Mr Nitin Gupta CEO, said, "The Xapads Media Journey has been fabulous so far, we never thought we will reach here. I still remember it was 1st June 2005 we were sitting in a park and decided that we should go together and run a company. So we started working on it and everything was structured on a very small scale of course. We hadn't had much to invest in our company; at that stage, we had an impeccable challenge at our hand whether it will work or not and what we bring to the table.
My college batch mates were earning a package of around Rs. 3 lakh while I and co. were doing with start-up mode. This didn't make us de-motivated as our zeal and will power had better of it. Our passion, 24-hour working caters us to achieve more ups than lows in this long journey. From Zero Revenue to Rs. 100 Crore in coming financial year shows that you've done very well for not only ourselves but also for those who are associated with us.
How do you think Xapads Media is Employee centric one?
Mr Rohit Arora (VP Technology), "The essence of any company's success lies in its employees and work culture which needs to be transparent. We are not running a business or company; rather we are growing with our family who helped us to unlock such achievements. Our work culture is competitive and to be at peace with our employees with no Politics. Also, we don't have titles within; so your success is determined by what you accomplish or perform that has been allotted to you. We are always there for our co-workers in their personal ups and downs. Trust and transparency are two biggest qualities responsible for such tiny employee attrition rate in our company".
How you get all the motivation?
Mr Nitin Gupta (CEO) "I think we cannot be just motivated by a thing, person or even money. Motivation comes from within i.e. Self-satisfaction. How and where I visualise myself 10 years down the line work as the biggest motivation for me to keep on going. So to be there, we have to work harder, bond within the company, to make things work, make money and off course make India a big brand name globally".
How do you learn new things?
Mr Prabhjinder Singh Ahuja (VP Mobile), Learning is something that never stops, we all learn something new every day. As we started on our own we had to learn each and everything, whose credit goes to Google. In addition, it is all about motivation and intent, you should have the attitude that you want to do this at any cost. If you have the intent to do something then there are 1000 ways to work it out as it's the intent that creates reality.
How much would you like to rate your team?
Management said "We will rate our team 10 on 10; it is their hard work and energy, which brings us here. It is us who have to show them the path but they are the champions in innovating it. They outshine whatever we expect from them, and propels us to reach next level of success. My team is brilliant, hard working and dedicated and without them we are numb. Kudos, to my team! Everything that Xapads is, is just because of them.
In one word describe yourself
Mr Ramneek Chadha (VP International): This goes to the heart of who we are as a person and I believe I am a Xapadian, whatever I am today it is because of Xapads. I think apart from that we don't have any identity. I am Xapadian first then someone else.
What would you like to suggest to people who are looking to launch new Start-up?
Not to take the easy path at all.