Google Chrome Announced Delay in 3P Cookies Deprecation Until 2024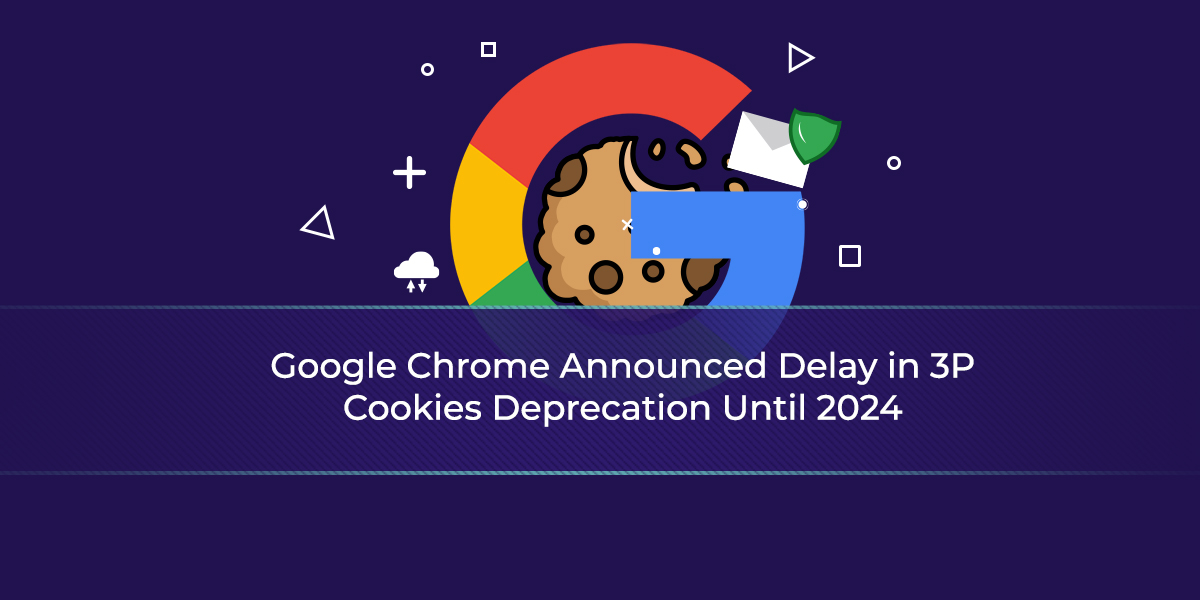 The deprecation of 3P cookies has been a hot topic to maintain users' privacy and hence, for the same, an initiative was taken by Google Privacy Sandbox to formalize its guidelines and was expected to be phased out by 2023. This timeline has been delayed to Q3 2024 because the industry revolutionising process needs to undergo various proposals, trials, testing & feedback from its niche players. Therefore, Google agreed to complete a set of protocols over the development & release cycle, as per the agreement signed with UK's CMA.
During this phase, participants can test the feature by using Feature Flags which is presently available in Chrome 91. As per the recent updates by Google, Flag is applicable on all APIs which will help developers to better test and evaluate them.

In June 2022, Google received feedback from the industry's participants that they could get sufficient time to adopt the new technological solutions. That's why, before the final phasing out of 3P cookies, Google is expanding the testing windows for Privacy Sandbox APIs in support of marketers and the entire advertising industry as it is not limited to the web but will be a transition for Android too. Such a decision was destined to happen & to understand the same, we must know the complete process & its timeline.
Talking of the same, presently, there are 4 ecosystems and 10 APIs that are in the evolving phase and here's a glimpse of a few:
Fight Spam & Fraud on the Web
Trust Tokens: Trust Tokens are encrypted via which it's next to impossible to identify a person or connect trusted and untrusted instances to discover the individual's identity. These tokens will support websites to differentiate real humans from bots, non-human traffic and malicious attackers.
Showcasing Relevant Content & Ads via Topics FLEDGE, Topics API, FLoC API:
FLEDGE: FLEDGE is a new methodology of addressing remarketing without relying on third-party cookies which will help advertisers and marketers to analyse the algorithms and showcase the willing ads based on user's interests.
Topics API: In Chrome, users will be able to see and remove the topics they don't like and can also completely disable them in Settings since Topics are recognizable and get inferred by the browser when a user visits a page.
FLoC API: This was designed to group cohorts sharing similar interests and browsing patterns as it was a proposal in Privacy Sandbox. The idea of segregating cohorts was to maintain 'safety in numbers' to identify the people in the crowd having common interests and

requirements.
Measurement of Digital Ads via:
Attribution Reporting API: To help marketers showcase and place the relevant ads while maintaining their effectiveness on the privacy-centred web, the Sandbox project aims to replace the 3P cookies with a new measurement & reporting tool. Such tools will be helpful in preventing users from being identified across other different websites.
Strengthen Cross-Site Privacy Boundaries via: First Party Sets: As the name itself suggests 'First Party', the Privacy Sandbox will enable domains to declare themselves as the "first-party set" that belongs to the same entity. With this tactic, the users' privacy will be protected and the exchange of information will become restricted outside of the first-party set.
Shared Storage API: The Sandbox project will provide "shared storage" that will not be partitioned but will ensure that the data inside it can also be readable in a tight and secure environment. Since browsers have started separating the storage like local storage and cache to prevent cross-site tracking but in legitimate cases, storage is required; that's why this proposal is meant to address the same.
CHIPS: Cookies Having Independent Partitioned State (CHIPS) are partitioned cookies under a privacy sandbox. This will signify to browsers that the essential cookies are allowed to operate across sites or only within the first-party set and an embedded widget.
Fenced Frames API: These are a form of the embedded frame which cannot communicate with the host page. Sandbox project will make it a safer one for the fenced frames to access its unpartitioned storage as it won't join its identifier with the top site.
Federated Credential Management: It fills the void for the federated identity designs that relied on 3P cookies. This will support the federated identity from sign-in to sign-out that depends on third-party cookies.
To summarize above, we must welcome this positive change by Google Privacy Sandbox as a better evolution for adtech mechanism and the advertising ecosystem.
Written By: Rohit Arora, VP – Tech and Strategic Initiatives