11 Years of Ad Serving and Technology- Employee Sayings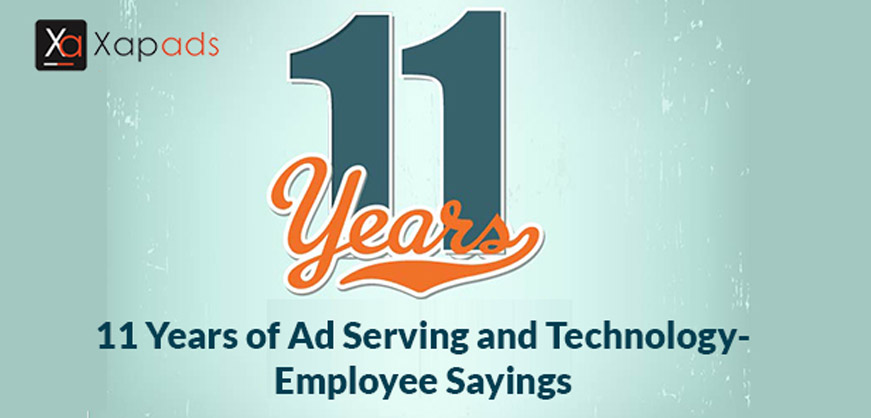 What makes an organization a runway success? Is it Innovation, strategies or environment, yes all three are important essence for the growth of organization but all goes in vein when it is not supported with competent and dedicated man power. Xapads has just celebrated 11 fruitful years in the industry with a fun trip at Goa to celebrate the hard work and dedication of our employees.
We are brimmed with people who are Smart, determined and motivated the company over these long years by going the extra mile. Our office and hierarchy are designed to encourage interactions between teams and management. As a team we have always strived on the two way communications and processes within our company and bossism being just a word. Apart from sharing ideas within the office we also socialize via social media channels- Facebook and WhatsApp group.
Like any other organization, we all have our high and lows but we always worked through it and what motivates us is the positive frame of mind which makes sure that we celebrate success together. The word Team means, Together-everyone- accomplish-more.
Some of our employees who have been part of this boundless growth still prefers ability over experience and share their half a decade of dedicated services in Xapads. Let's see what they have to say:-
Amarjeet Singh (Sr. Manager Ad Ops) – When I Joined Xapads in the year 2008, I could have not imagined just how good of an opportunity I was walking into as it has made me realize the potential I have in me and Xapads provided the opportunities to grow it. I am empowered and motivated to perform at my best and deliver excellent work. You gave me all the things which I didn't even have from my education i.e. determination, motivation and inspiration. Xapads values hard work, a can do spirit, a positive attitude and hands-on management. Management energy and enthusiasm are the toughest benchmark to beat at Xapads. These values keep me going and guide the entire organization. All this, coupled with Xapads success, makes this the most perfect place to work!
Vikram Negi (Team Lead – Design and Development) – Xapads allows me to maintain a great work and life balance. My job here has spruced me both personally and professionally. It has made me realize the potential I have to within me and given the opportunities to sharpen them. Over the 8 years of my service, I thoroughly enjoy the work culture and environment, and our management always make themselves available for questions and insight. Overall, my team makes my job fun and it is just an awesome place to work.
Manoj Yadav- (Sr. Media Manager)- It has been more than 5 years of wonderful journey in Xapads and surprisingly how quickly time has passed away as it looks like I have spent only 2-3 month here. Thanks to superb working environment, and supporting management, it has become a family to me not just only the organization.
Prity Priyanka (Sr. Media Manager)- Its being wonderful 6+ Years at Xapads for me, A home like feeling will always remain in my heart for Xapads as the environment provided here is very friendly. I always find a good sense of team spirit here and always got motivated to achieve more and more by my mentors. Really feel proud to be a part of Xapads.
Rahul kumar (Sr. Web developer) – I have been a part of Xapads family for about 6 years now and I really feel proud to work with such an amazing organization where I feel like a second home. Xapads gave me ample chances to showcase my caliber as a developer. All my bosses are very supportive and motivate us to work as a team here. I have learned a lot and met amazing people.
Alok Pandey (Sales Head) – It has been a very wonderful and fulfilling experience working with Xapads. I feel compelled to articulate my feedback because as employee, we often only provide feedback when we are dissatisfied. In this case, it is completely the opposite scenario. I would like to take this opportunity to commend and thank the Xapads Media for their wonderful help and support. It is nice to know that you are working for someone you can fully trust because you know they have your interest at heart and not just advising or designing your career for the sake of revenue or profit. Last but not the least I don't consider Xapads Media as my employer. Xapads is a family for me I am not writing it for a testimonial or blog I truly mean it.
God bless my company, my world Xapads Media.
Akanksha Tripathi (Sr. HR) – Xapads has a very Dynamic, positive working environment and everyone wearing smile on their faces motivates you immensely which makes it a great and fun place to work. Xapads is an organization that looks after you and wants you to succeed in every aspect of life as an individual and also as part of a team by removing the fear of job. It has been more than 6 wonderful years that I am proud part of this amazing organization and wants to remain for years to come.
Anupriya Singh (Sr. Media Manager) – Xapads is not just an organization; it's a family to me where stereotypes like work load, pressure and Politics doesn't exist. The Management understands the importance of healthy work-life commitments and allows to you maintain that via Flexi timings and support. They always help you out when times are tough in every possible manner.
Employees- The key to success
In today's competitive scenario, if company invests in the development of its employees both professionally and personally attains extra edge over its rivals. How your employees treated at the organization and how they value the management and environment certainly have a big impact on the performance of company. While some organizations prefers making their ledger green, clients happy though neglecting the most of important asset of the organization i.e. Employees but we think in a different way, our motto of success is, "the path of satisfied clients goes via the corridor of happy employees". Profits might fluctuate but good relations with employees can take organization long way and one must take care of the workforce who will return it by taking care of your business.