Xapads- The new Era of Digital Advertising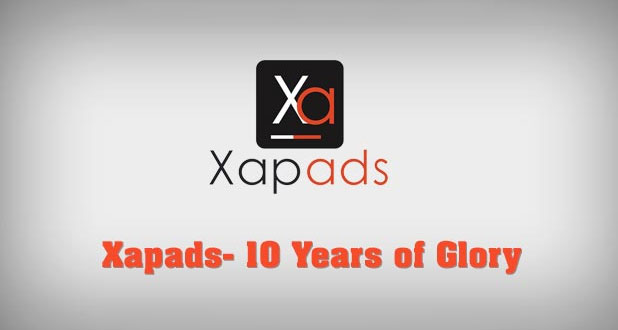 Xapads- A start up
Xapads made its presence felt in 2008 as a distinguished digital display advertisement network, with a vision to provide exceptional services, better ROI aided by our futuristic approach and well versed professional team.
We are catering our clients need in the fields of search engine advertising, social media advertising, programmatic media buying etc. At Xapads we connect quantity with quality via cutting edge technology and industry best tools.
Our professional approach and skilled team facilitates in the successful and quick execution of client's campaign which results in better optimization and generates higher ROI for our clients. Xapads have collaborated with various well known advertisers and publishers which made us to accumulate more than 50 million exclusive users and help us to serve over a billion Ad impressions monthly from 170+ countries. Earlier we were constricted to clients from domestic market but now our go get em approach and professionalism made clients from several parts of the world including USA, Australia and Europe to happily work with us.
Xapads is an entirely owned subordinate to Xaprio Holdings which was established in Year 2004, headquartered in New Delhi. It is a liability-free, investment-free, privately held business with Xaprio Holdings partners as the promoters of the company.
The success of Xapads encouraged us to enter into the new and most competitive era of mobile advertising with 'Tapigy', a mobile exclusive platform. Tapigy is tailor made to cater the needs of customers who are specifically looking for right audiences for their product. By delivering more fruitful results to the customers, Tapigy is growing at the rate of knots in mobile advertising world and creating win-win situation for the clients.
Xapads and Tapigy is backed by four pioneers of advertising industry carrying tons of experience and skills with them that helps us grow from a start up to well established player in the market.
The team of experienced, dedicated and encouraged individuals played a major role in the success of Xaprio.
Xapads- the new age network
We have added a new feather in our cap with the launch of advanced Version of Xapads- Xapads V2015 which serve as a RTB because the world is approaching towards automation so are we. Now you can Go Programmatic with Xapads, an independent cross channel programmatic ad exchange made to get maximum ROI via single platform. But being a programmatic ad exchange we still follow human instincts when it comes to better results and performance.
Xapads V2015 now armed with easy to use technology, premium placements more exclusive data and integrated RTB solutions in a bid to help you to achieve results you are after at.
With Xapads you get wide range of global inventory along, brand safety, advanced targeting, techniques and most importantly the fraud protection services, because we care about the safety of your brand as much as you do.
Since our advent we have partnered with some privileged publishers in the market such as Carzoom, All about Women, My Times Now, Mobiblip, Zee news, NDTV Profit, Make my trip, gaana.com and many more.