The ultimate guide to employee engagement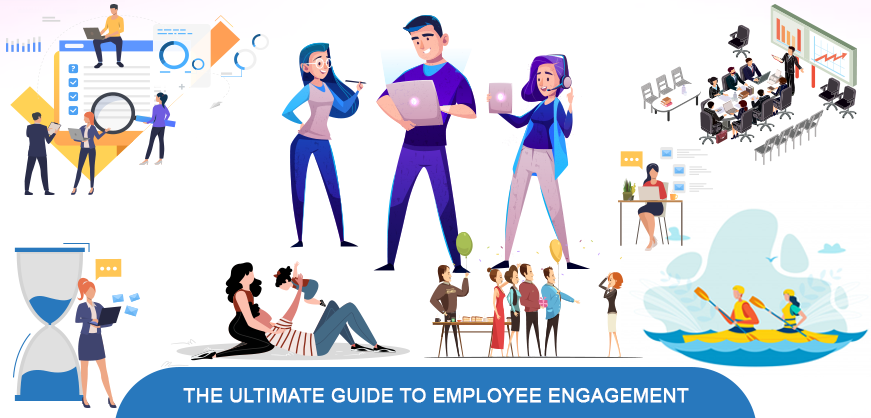 Don't we all as employees often wonder how our office can be our home? After all, we all spend more time there and invest in more relationships on a social level. Well, that is what the HR loosely terms employee engagement. Employee engagement is the extent to which an employee's personal goals and interests align with the vision and goals of the company at which they are employed.
Referring to the Wikipedia term employee engagement is "a property of the relationship between an organization and its employees. An 'engaged employee' is the one who is fully absorbed by and enthusiastic about their work and so takes positive action to further the organization's reputation and interests."
Why is employee engagement so important?
Employee engagement is important because an engaged employee will do extra things as they feel a great emotional connect to the organization. They want their organization businesses to grow because they identify with their company's mission, purpose, and values on a personal level.
And it is the duty of an organization to keep the employees engaged.
Why employee engagement matters?
Engagement affects every person inside your organization, and every person inside your organization touches your bottom line. Engagement is thoroughly linked to an employee's emotional connection to his or her company, and how that connection translates to job performance.
So here are some ideas that can help you engage your employees:
Build an engaging onboard experience
Onboarding is not an HR thing, managers should also make employees feel welcome and must communicate with them. Employees start making perceptions of the workplace from day one so take that opportunity and help them have a great start.
Change the work environment
Make the usual 9 to 5 job interesting. Allow work from homes, walking meetings, team lunch or parties. Just make your workplace more enjoyable.
Praise your people
Do not miss any chance to celebrate or appreciate your people. Bring cake for birthdays, attend their personal celebrations, award them for good work and support them. They should be like a family to you.
Be a motivating boss
IN the era where the lines between a junior and senior have thinned down it is important to forgo that boss attitude and employees, do not like taking orders, they want advise, coaching and need to be nurtured, so do that.
Encourage their individuality
Employees feel engaged when they can bring their whole selves to the work. Let them be who they are and ask them about their personal lives as well. Help their personalities shine.
Provide flexible working hours
Your workers aren't children if you have hired them; trust them to get your work done. Provide them flexible working hours. When they have the freedom to work where and how they feel engaged and motivated.
Create a feedback-free atmosphere
Create an environment where the employee must feel that they are safe to give feedback and they won't face any negative repercussions. This starts by building trust in your relationship with the employee and how feedback is received. Be respectful and don't force feedbacks.
Provide socializing space
Make sure there are spots in the office where people can take a break and interact with each other. Lunchroom, table tennis, ping pong table, pool table or couches provide such things.
We've also identified nine key areas that every successful employee engagement strategy needs to address:
Value and purpose
Communication
Health and wellness
Workspace
Well defined roles
Relationship with colleagues
Incentives
Buy in from managers
Personal growth and development