Diwali Celebrations 2018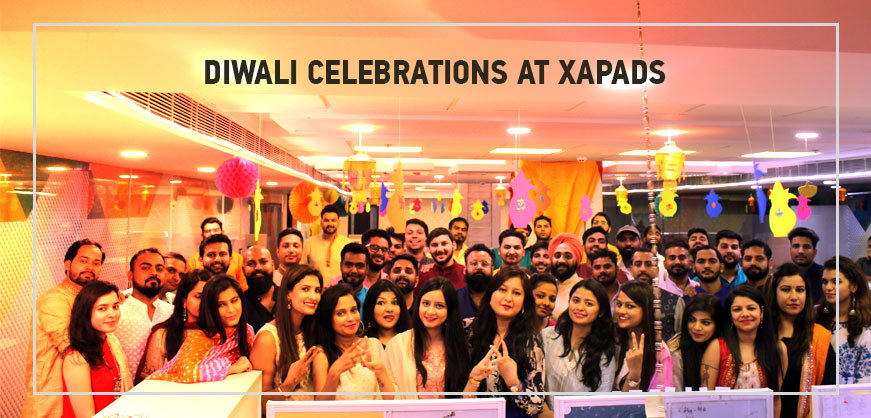 Diwali is one of the most awaited festival in India, every year we wait for these festivities to start. Diwali is all about lighting our houses, crowded markets, gifts, sweets, diyas and wishing good health and happiness to close ones. We all know it is a mark of victory of good over evil. The festival also brings in great energy and enthusiasm throughout the country.
At Xapads we celebrated Diwali in a fun way and everyone enjoyed the moments of the celebration. The office was aesthetically decorated as per Diwali theme, with kalash and lantern hangings on the ceiling along-with lights. All our employees were dressed in traditional attire to spread the festive vibes. Just like a flower brings smile on your face, the lights and decorations of Diwali spread happiness all around.
The activity area was beautifully decorated with flowers and hanging frames, it was turned into a perfect picture station for our employees. Check out the pictures:
We celebrated the festival by playing fun games and competitions. There was positive spark of engagement and involvement amongst the colleagues. The employees were divided into team and performed various tasks and games. The games kick started with a rangoli competition, followed by fun physical activities and a skit play competition.
Not only our employees but our top management team also enthusiastically participated in the games. Later the employees were provided with their Diwali gifts. Overall it was a fun and amazing celebration this year.
The atmosphere of the entire office was wonderful and everyone was in a happy and joyous mood. All the new joinees also enjoyed and loved the environment. Everyone happily ended the Diwali celebrations.
"Diwali spreads the flicker of happiness to one and all!" A very happy Diwali to all of you.