B2B Video Marketing: Tips for Better Results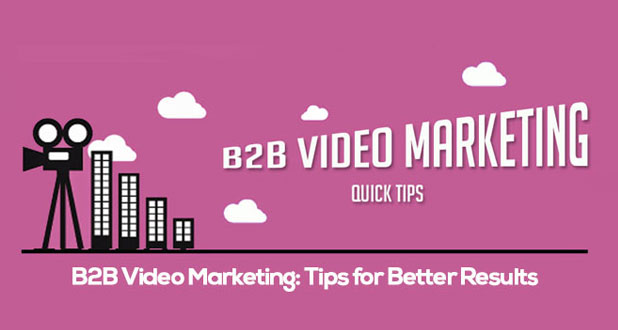 Life as a digital marketer is way faster and less organized than before. They have to manage number of segments together. But presently, the marketers are focusing more on video Ads as in this era, 'Seeing is Believing' is what the market is following. The quality and performance of video content is decisive in determining the position in the market.
Here are the few tips which must be kept in mind while creating video Ads for B2B purpose to get impressive results:
Don't Assume Your Audience Wants Boring Content!
Understanding the audience properly is a bit critical than assumed in order to create effective content. A lot of people believe that they know their audience as they deal with them on daily basis, but according to a recent customer survey, it doesn't mean you actually know them.
Include few things in your questionnaire and ask them about what kind of content they prefer to watch online, what they honestly think of your product/service and what they expect from your brand. Use all this research material to create the desired content for them. Creating content which stands out and achieves results is what our need is.
Videos Should Not Be Marketing Biased
The golden rule of video marketing is as simple as schooling. Spot one. . . Do one . . . Teach one. The video should reflect your brand and culture, show some real people from your company, this directly or indirectly shows excitement and authenticity. Be crystal clear about your brand mantra, show it in your tagline and bring life to your video. Use creative experts to connect emotionally with the viewers because emotions and fun are the only things which keep them engaged. Also, not all videos need an intellectual script, believe us its boring. In few cases, yes, action speaks louder than words. Create mime videos, which should be crisp, to the point, short and sweet as these looks intelligent and ultimately engage audience as well.
Set Clear Objectives
Sometimes people produce the content with no bona fide understanding of why they are creating it. Reason could be different in different cases, maybe it is so because they have always done it or perhaps a senior feels it is needed or possibly they want to capture every single detail of what you are putting your stake in. Sorrowfully, none of these shall work out to produce a quality video content. Rather, spend some time thinking about what output you want to achieve with the video and how those SMART objectives do justification with the product.
Think About Broader Opportunities
If you are making the substantial percentage of investment in content marketing, give a thought finding new ideas about how else you may be able to use it other than traditional ways. Search for partners who want to be featured and can help in distribution of your content in a broader perspective or contribute some percentage to the cost. Create PR value in the story, arrange interview of some clients to create trustfulness to the content.
Measure and learn
Make arrangements to measure the success (or failure) of the campaign in advance. Like filmmakers do, organize a special screening for specific class (es) of people, use analytics to check if you are leaving an imprint on the core of hearts and if people that people are getting engaged with the content. Learn if you fail and re-create the advertising campaign in order to achieve success. It is better than keeping the image of brand on stake.
Conclusion
Remember that just burning your money on video production will take you nowhere. In B2B video marketing, the best gamble is turning the complicated to easier. And this is possible in house in many ways. Have a channel for video distribution in order to confirm that the videos are visible and can be easily found by the audience is more important than the production itself.