Advertisers Capitalize on the Latest Shifts of Video Advertising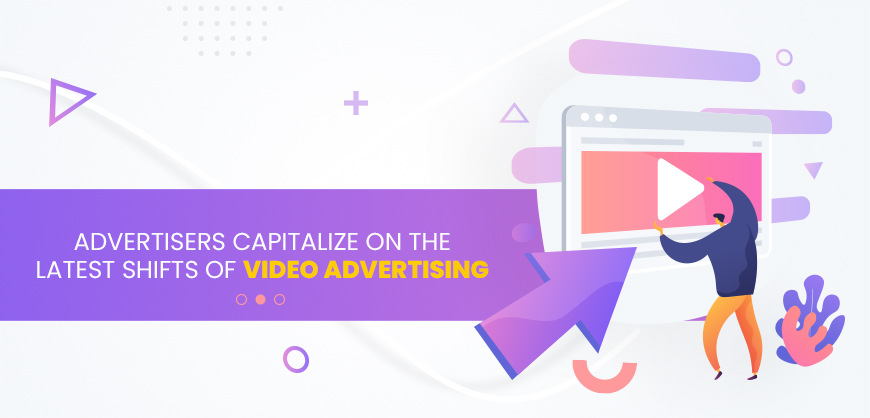 With a tendency to drift and boost any business, Video Advertising is enabling advertisers to capitalize on its latest shift. The reason for video advertising is also the uncertainty caused by the outbreak of novel coronavirus. Covid-19 accelerated consumer need for videos with interesting and friendly content, resulting in a booming video advertising universe.
Videos majorly stand on four E's for viral consumption: education, emotional, entertainment and engagement. Brands too are recognizing this value of video advertising and pulling their socks up to acquire, retain and sustain more users on an app. According to the latest data from GSMA Intelligence, 5.2 billion unique mobile users, i.e., nearly 67% of the global population has already been tapped with the potential of delivering relevant ads. In fact, India is considered the sixth-largest market for the consumption of video ads. Also, with an ongoing pandemic, mobile usage will continue to remain high, inspiring users to spend more time on mobile apps.

It is crystal clear that consumers engage with apps wherein, video ads are trying to impact them whilst enriching the mobile experience. Video ads have now become a future of advertising because it has opened doors of opportunities for advertisers to stream on the internet with enhanced targeting and personalised experience.
The popularity of videos started with YouTube and currently, it has over 2.3 billion global monthly logged-in users. In fact, YouTube's parent company Alphabet reported its Q1 2021 showed that YouTube accumulated a $6 billion in ad revenue, up by 49% year-on-year. For an advertiser the reach and targeted audience is a huge benefit, making video advertising lucrative both for YouTube and the advertiser.
And looking at this growth and the surge in the popularity of videos social media giant Facebook too added them. Facebook Watch with a global daily user base of 140 million, spends an average of 26 minutes per day watching videos. Therefore, 75% of the businesses on Facebook use video ads. But the boom came when short video format, TikTok became a massive hit. Its subsequent banning in India in June 2020 seriously affected a staggering 600 million users (source: CNN Business).
The huge left-over segment of audience and content creators was filled in by different homegrown Indian video sharing apps such as Josh, Mitron, Moj, MX Taka Tak and Public. Such apps rapidly gained traction of users and investors by providing a similar experience like TikTok. These apps offer a handful of options to create viral video content and support local and regional languages as well. Some of the TikTok alternatives such as Mitron hit 1 crore downloads on Google Play in two months of its launch in June 2020. Facebook led Instagram too jumped into the market by introducing Instagram Reels. And Instagram introducing video advertising is a testament to the fact that Video Advertising is here to stay because Instagram video ads receive 3x more engagement than image-based ads.
With the boom in the Indian market for these short video apps, the advertiser market is also growing rapidly. The market is estimated to grow as by 4x on the total time spent and will reach 400-450 billion minutes a month by 2021 which means advertisers are bound to get better reach and promotion on these apps. Considering the sustainable growth, short video apps have become the most powerful catalyst for adverts like the Indian homegrown app Sharechat has earned ₹ 8.92 crores from advertisements last year. (source: exchange4media). The scope of video advertising in the upcoming times would let advertisers tap a huge segment of the market and with an exceptional online presence.
Observing this increase in demands, major e-commerce giants such as Flipkart and Amazon have also started showcasing a separate section for videos namely Videos and miniTV which often become a leading sales-driving component. Interestingly, the Forrester Report revealed that brands spent approx. $90 billion on video ads which are also expected to reach approx. $102.8 billion by 2023. Therefore, rational ad spends could bring a storm for advertisers on the exponential growth of video advertising.
Message & Revenue: Though all ad formats have their own importance and specialties in engaging consumers and evolving business, video ads are considered at the top of performance because of their influencing power in delivering messages and revenue-boosting tactics.
Native Videos: Native videos are created and uploaded on social networks where the content itself is an ad. Consider an example of a native video that talks about healthy skin and promotes a skincare product. Such videos are informative with an emotional touch that often appeals to consumers who enjoy the stream of advertising messages.
Cost-Adequacy: Undoubtedly, video ads are a bit expensive but, observing the evolving trends and performance video ads engage more consumers, the cost is no more an obstacle for advertisers. With attractive creation, premium quality and flowy distribution of video ad messages to grab consumer attention, the cost of video ads has reduced making them accessible for all the advertisers.
Notable Changes and Experience: With more online consumerism, more efforts have been evolved notably for advertisers and the user's data protection & privacy wherein, Apple's new policies have set a benchmark for targeting the users. The advertisers reaching the audience without their data strive to provide a stronger branding experience. According to Statista, the projected ad spending in video advertising is expected to reach $37,418 million this year with a CAGR (2021-2025) of 5.05% which will account for the market value of $45576 million by the year 2025; providing opportunities to advertisers in broadening their reach without using Device IDs.
Digital advancement and evolutions are real which sometimes become easy but at times challenging for advertisers to sustain and cope up. Xapads, a leading programmatic ad network assists the advertisers to effectively re-center their strategies for a meaningful audience experience. With us, advertisers can make the best out of their video advertising strategies, delivering promising results with diversified possible content, while attracting consumers.