What iOS 14 Update & Policies Mean for Advertisers?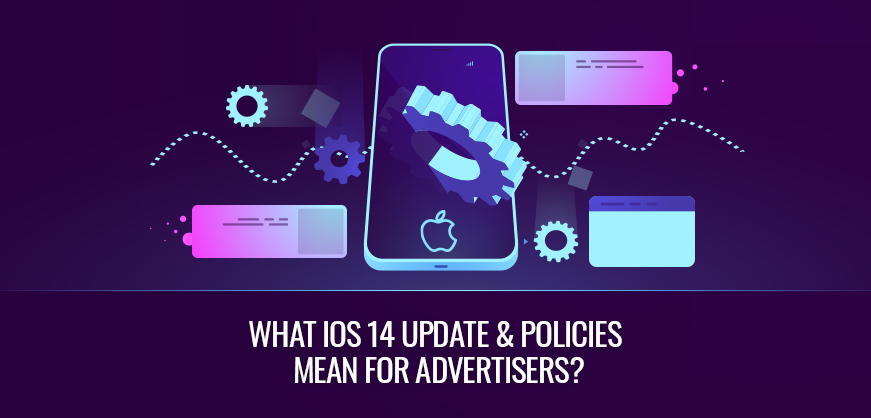 The ad ecosystem is very dynamic and often goes through a paradigm shift. Whether it's the government regulations or policies by tech organizations, changes have been constant when it comes to technology. And, this time, Apple's new policies that are expected to come into effect have changed the advertising landscape, already.
Why has iOS made changes in its policies?
Recently, Apple announced its changes with the all-new iOS 14 updates. The roll-out is expected to start anytime soon. iOS 14 rendered significant changes with which Apple is focussing on its app privacy and tracking activities. The recently announced new update on iOS 14.5 focuses on ad tracking. It grants users strict control over their data and privacy.
Facebook and Apple are involved in a war of privacy changes with which the announcement in Apple policies will impact the tracking and targeting of the users that Facebook uses for its marketing. Apple is now giving its users control over ad tracking, minimizing paid advertising disruptions. The new iOS 14 update called App Tracking Transparency (ATT) has confirmed that the users will be asked for explicit consent to use their IDFA for third-party ad tracking. Also, on the app side, the developers will require user's permission for tracking user's information across different websites and apps to comply with ATT policy for advertising purposes.
With this update, a new prompt screen will be added to the App Store with all the information asking about app privacy, linked data, and tracking data. The purpose behind this new update is to make Apple users aware of what data an app will track before its installation and give users a choice with decision-making power to opt-in to tracking when they install an app.
How advertisers will be impacted by the new update?
Advertisers are aware that now users will have a choice of giving permission or consent to tracking them and their data, also assuming that most users might not opt-in. With the absence of user's information and data, advertising would suffer and face significant disruption. Though, the accuracy of the update's impact will only be analyzed after the rollout. For advertisers, it is essential to note that ATT will be available to iOS 14.5 users wherein, opt-in rate is unknown. Therefore, advertisers are required to monitor the data, keeping an eye on the iOS ad performance understanding the update impact and rollout at its core to adjust the campaign accordingly.
Here is what it means:
SKAdNetwork: Apple introduced its concept of 'SKAdNetwork' API in May 2018, with the sole purpose of increasing its user's privacy from mobile apps. Now, in March 2021, the 'SKAdNetwork' has turned into reality from being an introductory concept, affecting the ways of using Facebook Ads. Moving forward, Facebook will use this 'SKAdNetwork' API for app advertising on all the iOS 14 devices which will either restrict or delay the app event's data.
Changes in Mobile Advertising: Besides the 'SKAdNetwork' API, Apple has also created a Private Click Management called the PCM protocol for web attribution. This protocol will lead to severe restriction of data sharing. For example, if you click on a Facebook advert and use your web browser to buy, because of the all-new PCM, this would not be properly attributed.
However, Facebook will also release an Aggregated Event Management tool to counter this issue. But when this will roll out is the main question.
Targeting and Optimization: The iOS 14 changes targeting and optimization tools, as well. This means that an advertiser is now restricted to a maximum of eight conversion events per domain for optimization as there is an event cap per domain. Additionally, when more people update their iPhones to iOS 14, the size of re-targeting the audience will shrink further over time.
Measurement: The ad-reporting data will also have a three-day delay on data display, especially for the data that comes from iOS 14 users due to Apple PCM's protocol.
Business Manager Tool Setup: This is one of the most essential components as the Facebook Business Manager interface will modify its design to integrate both iOS & Android.
How advertisers can prepare themselves proactively for the iOS 14 update and what actions can they take:
Domain Verification with Facebook: You must verify your domains with Facebook. You can do this by:
Adding a DNS TXT entry to your DNS record, confirm yourself an owner of a domain. Uploading an HTML file to your web directory, provided by Facebook.
Owing to the new limitations, select the eight important events you want to use to track conversions.
Re-evaluate Targeting & Optimization: An advertiser must evaluate the changes in the impact of targeting and optimization on the campaigns. Additionally, for you to understand the real impact of Facebook ads on your sales funnel, as an advertiser, you must also install a post-purchase attribution survey tool that will aid collect data and feedback from the consumers, without actually relying on cookies.
2021 is being hailed as a tech-revolutionary year for all tech organizations and mitigating the damage caused by such updates. To enable advertisers to pursue the change, we at Xapads help plan their business models in a way that would aid them in success from an advertising perspective.