Digital video ads have higher impact than TV ads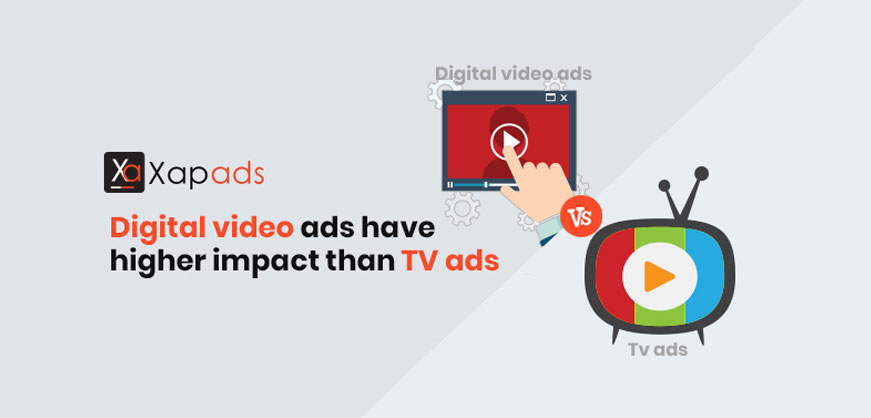 Gone are the days when entertainment was only confined to TV channels. Today we live in an era where internet is the biggest source of video content .With no restrictions on online video content unlike TV one can enjoy the videos to the fullest. With a growth in technology smartphones have taken over conventional TV sets and video advertisement over TV ads. According to a report on digital advertising by Dentsu Aegis Network, the Indian digital advertising industry, currently pegged at around Rs 8,202 crore, is slated to see a growth at 32% CAGR to reach Rs 18,986 crore by 2020. Since content is the king and online video content is winning over TV so are the the online video ads are over TV ads because of the below reason
Targeting
The ad targeting in online video ads ensure that your ad is served to targeted users and not to the audience unlike in conventional advertising where you can not select the audience according to age, sex, interests and geographical location. Secondly the artificial intelligence gives a unique approach of serving the video ad which is highly targeted to the user.
Better conversion
Since precise targeting is possible in video advertisement which leads to better conversion which is beneficial for advertiser too.
Mobile friendly
The digital revolution in India with reducing data costs has increased smart phone penetration and time spent on mobile phones. People prefer watching video on the go rather than sitting in front of TV sets which is why mobile users are the biggest target for advertisers. This is why the online video ad industry is growing at such high pace.
Cost-effective
The ads create same visual effect as TVC with 1/100th of price, and provides more options for selecting the right audience and track performance. Also it gives better ROI and conversion than TV advertisement.
Connectd TV
with the introduction of applications like Netflix, Amazon prime , hotstar to name a few, people are consuming content on connected devices like smart TV over conventional TV. This which gives digital advertisers the power to show digital video ads on a conventional TV screen giving the same user experience but to targeted audience.
According to new data from eMarketers the spending on TV ads has declined and online video ads being one of the reasons which clearly means advertising industry ad spent is inclining towards online video ads.